30 years ago, I drove up from the town of Pinedale, Wyoming along Lake Fremont Road. This little road that passes the Mountain Man Museum of the Rockies, heads up this small little hill side covered in high desert scrub and sage brush. What is amazing is that from the town you cannot see the wilderness, as the town center sits down in a small basin. The previous evening, I had met a family that ran an outfitters group that took teams of llama's to carry gear into the Bridger Wilderness. As we ate dinner, I marveled at the wide expanse of unchartered territory that lay just to the north of the small town. They described the exotic trips they would make into the area south of the famous WindRiver Range of mountains, hauling rich people into an area of the world that still was reminiscent of the days when the West was still largely a frontier. They told me to hang a left at the road at the end of town and drive up the hill and I would see for myself why they called this place home.
So there I stood, at a road side turn out staring at potentially the most beautiful sight that I would ever see in my life.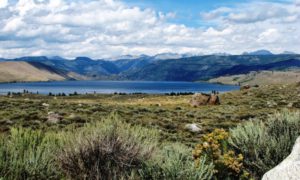 Standing there just at the crest of this small hill, you could see the crystal clear water of Lake Fremont serving as the forefront of the incredible view of the Bridger – Teton area. The many 13K peaks making up the skyline, the sight was breathtaking to say the least. My 21 year old self, thought at that moment how I should just one day step out into the wilderness and start walking and where it would take me. It would take me almost 30 years later to fulfill that oath and here is the story that recaps that journey. I had no idea that I would have with me an 18 year old son when I made the journey, but we took the journey and we are both glad that we did.
Last weekend we drove to Pinedale, Wyoming and stayed in a rustic old hotel and made our last minute preparations for the hike. We had a good night's sleep and visited a few shops and restaurants. We stopped in at the local fly fishing store to stock up on some gear, and then ate our last real meal for a week at the local Brewing Company. This was one of the few additions to the town since the last time I was here 30 years ago. Pinedale, btw, still serves the same purpose as it did when it was founded in the early 1900s. It has always been an outfitting town dedicated to being a launching point into the Windriver Range. Activities ranging from fishing, hiking, boating, off-road driving and winter sports are now very common. In the early years it served as a primary logging hub for building the trans-union railroad and as a respite for the many trappers, hunters and other activities that Mountain Men would engage in. You can still visit the annual Mountain Man Rendezvous that is held annually. We were one of many people using the town as our brief respite before heading into the wilderness. When we left in the early AM, there was an elderly couple that opened their shop up with pre-made breakfast sandwiches for hikers. Clearly this is a tourist town, through and through.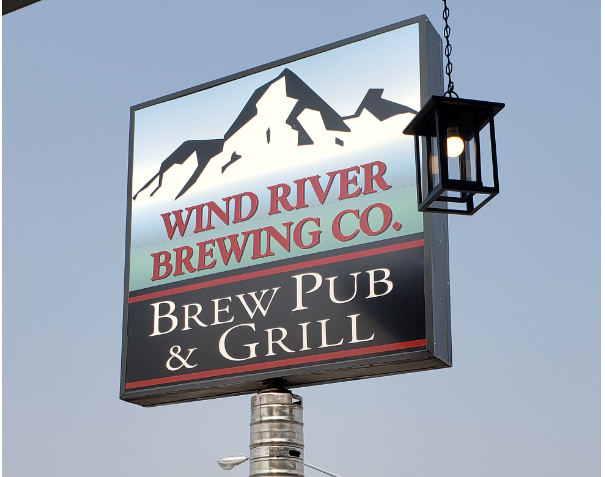 30,000 years ago, the Pleistocene Glaciation of North America brought several major glaciers into what we know call the United States. The Pinedale Glaciations covered the land mass all the way right up until the current town of Pinedale. This is why there is this large hill you climb up and over to get a view into the Wilderness. The glaciers started to recede and as they did they left the land carved up in interesting and unique ways. The first and foremost is the giant, "finger lakes" that the glaciers literally carved out giant lakes in the shape of giant fingers. They are long, deep lakes filled with pre-historic water from early glacier melt. Secondly is the massive boulders seemingly deposited from out of nowhere. Third is what remains, majestic mountains that reach for the sky in odd and jagged patterns. The glaciers are still here today. You can drive through miles and miles of barren high desert landscape and then suddenly be in a whole different universe when you reach the ground and terrain impacted by the last major glacial melt. Note in this image where the glaciers still remain in Wyoming, the bottom one being the Wind River area – for which our hike was destined.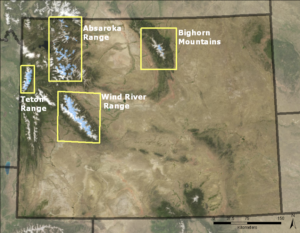 The glaciers are still present in many areas of the Wind Rivers, especially on the eastern slope of the Continental divide. There is no debate on this subject, the earth is definitely warming as these glaciers continue to recede each year. We are still, sort of, in the last ice age and seem to be slowly progressing out of it. These latest glaciers are part of what we call the "little Ice Age". About 700 years ago, the ice increased dramatically, almost covering the entire area. You will see as you hike through it a rather young forest. That is because not too long ago, it was completely covered in ice. Make no mistake, however, although this area is crisscrossed by over 600 miles of trails, this is absolutely wilderness in every since of the word.
When I got to the parking lot at the Pole Creek trailhead, I was a little shocked at first. There were probably 50 vehicles parked there. The license plates were from all over the place. Over 25 states of the union represented and few foreign countries. Yellowstone, as it seems, attracts people for long road trips. Being adventurous, they like to find a place to hike. Wyoming prides itself on remaining for the most part, permit free. Meaning, last minute plans are welcome here and there is no cost to venture out into the wilderness. When I asked the forest service about a permit, they said to me, we have only one thing to say regarding a permit and that is "good luck, let us know how it goes, and watch for Grizzlies." Whereas, 30 years ago the same lady was volunteering at the Ranger Station, the parking lot did not exist. There was a small turn out in the road and a small sign. Now, there is a large cutout of a parking lot where tourists park their vehicles and test their luck against one of the few surviving wildness areas in the United States.
A family from New York strode past us singing songs and laughing, having no idea what they were getting themselves into.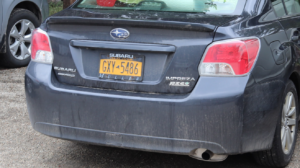 The moment finally came where we parked the rental SUV, hid our valuables out of sight and loaded on our packs. We signed the trail register and smiled nervously as we pondered what the first step on the trail really meant for us. The next week we would be spending in complete wilderness, surviving on what we could carry on our backs. Here we go! Feet fail us not! My traveling companions (pictured from left to right) were Jayson, my son's friend, my 18 year old son, Ayden, and my Aunt Kathy – who is about 75 years old. Too old to go on a hike like this? Nah, the Viking blood still runs strong in this family!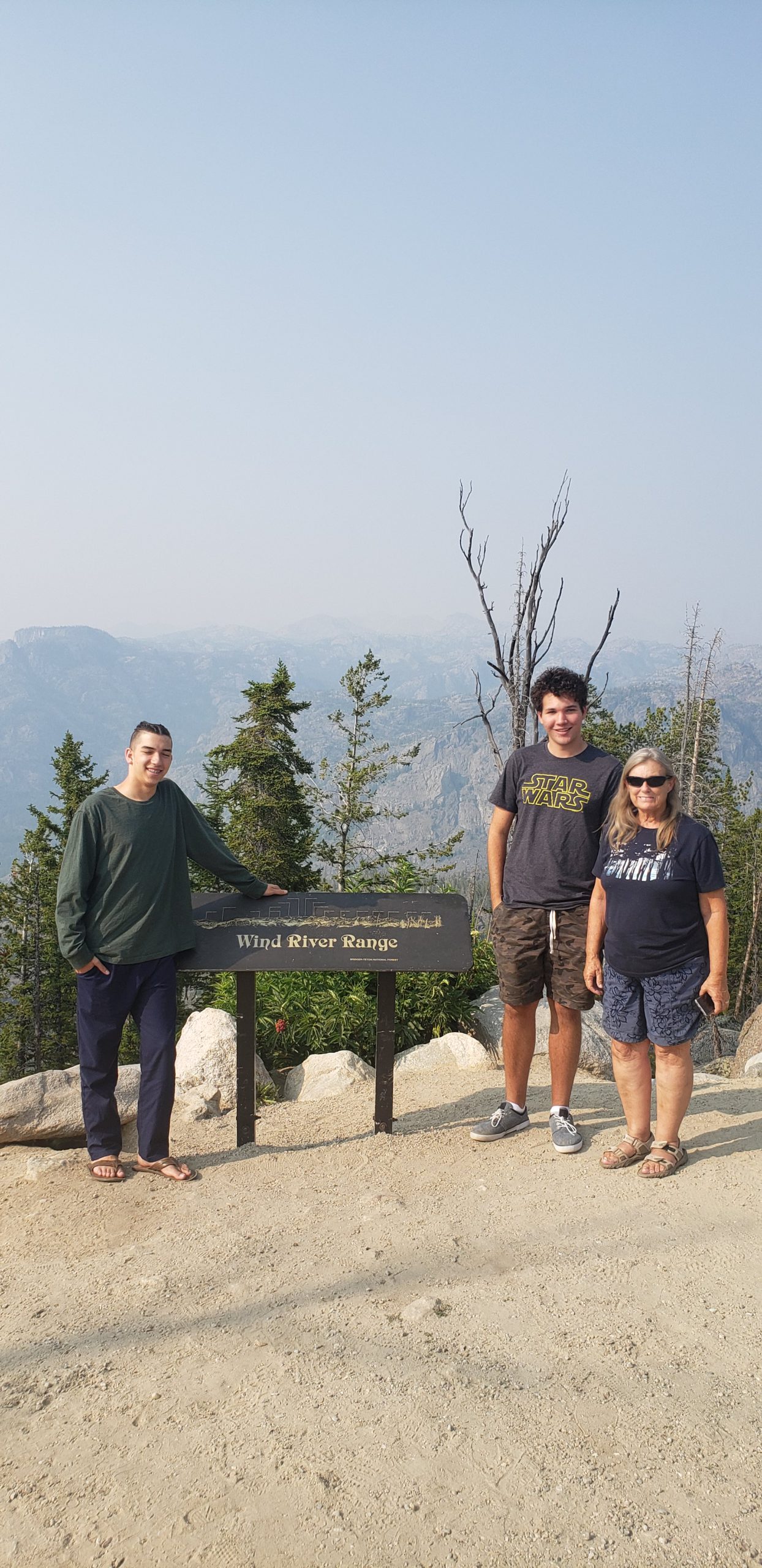 Now, I am showing you this photo because there is something interesting to note here. When we arrived the day before, an eerie haze had crept over the entire mountain range. When we asked the forest ranger station about it, they told us that smoke from the wild fires in Idaho had blown into the area and had settled in. Visibility was probably at about 20 miles. You will note in this photo, that you cannot see the Wind River Range behind the group. You can see the hazy smoke that persisted for several days into our hike. Here my son and I are ready to start the hike. Yes he is 6″5′. A few notes. Lots of bear warnings all over the place. Also, I am wearing this really goofy hat for a good reason. Mosquitoes! Everywhere!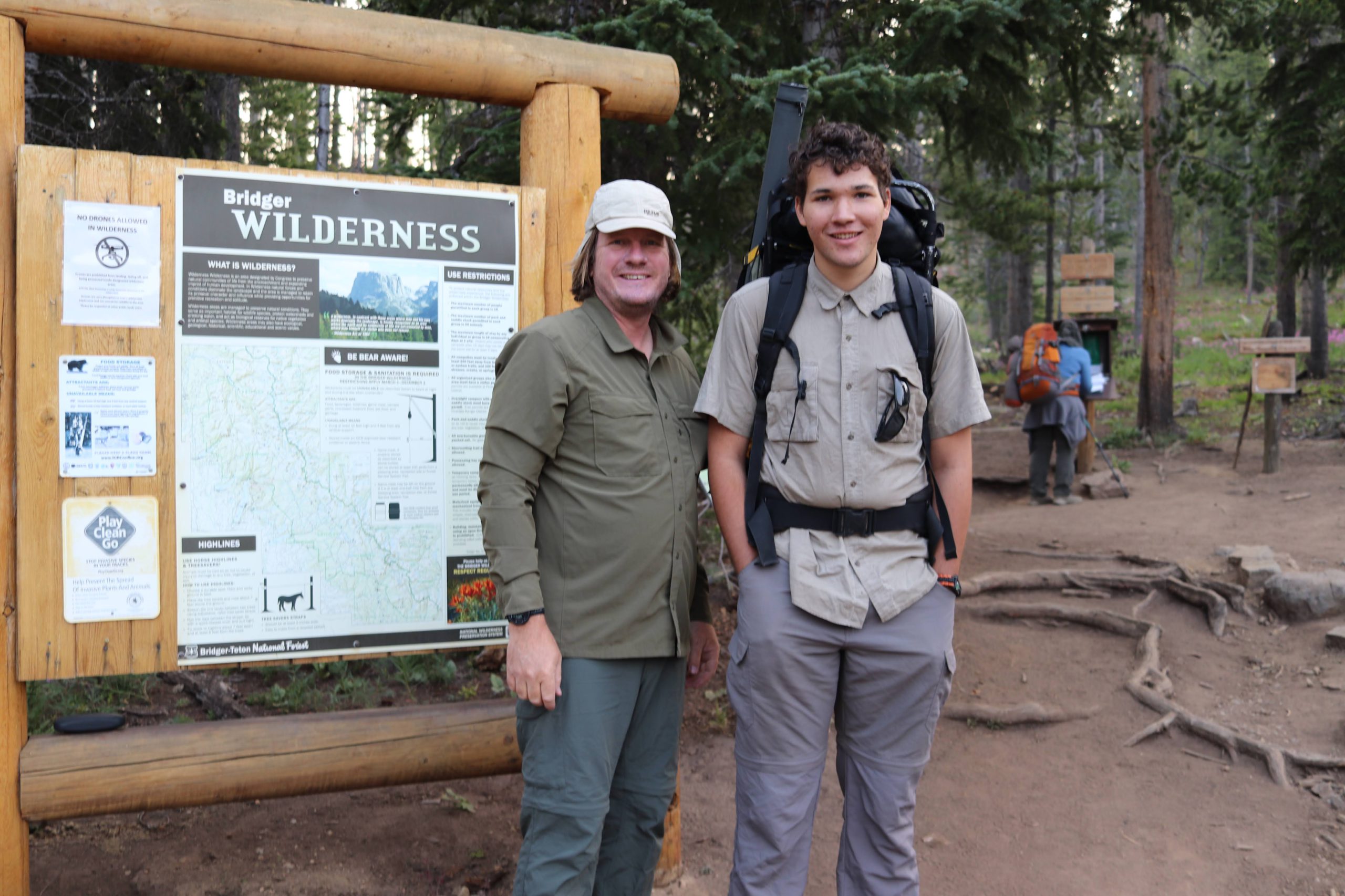 Soon the early morning became a sunrise and although the gloomy nature of the smoke in the air was casting a shadow across everything. The pole creek trail follows a drainage basin along a ridge line for several miles with the first major milestone called Photographer's point. However, prior to getting to that, I want to highlight the interesting landscape we were walking through. Parts of the area looked like a gorgeous elf like forest of a Tolkien fantasy, other parts looked like a World War I battle scene. A picture as the sun rises over the Pole Creek Trail. 
Note in this picture the hazy morning sky from the smoke from the Idaho fires. Also note the many fallen trees all chopped up and discarded on the trail side. 
A few years ago a freak wind storm blew through the area, recording over 70MPH winds. This caused absolute devastation where any tree with a weak root structure was ripped out of the ground and fell to the floor. Volunteers spend all last year clearing the trail with chain saws. With smoke in the air and a literal wall of cut up logs on both sides of us, it seemed like we were in the trenches of Normandy. 
God's beautiful creation could not be thwarted, however. Even in the midst of so much destruction, amazing beauty would come pouring through. Like this ray of sunshine pitching through the forest canopy into an open glade.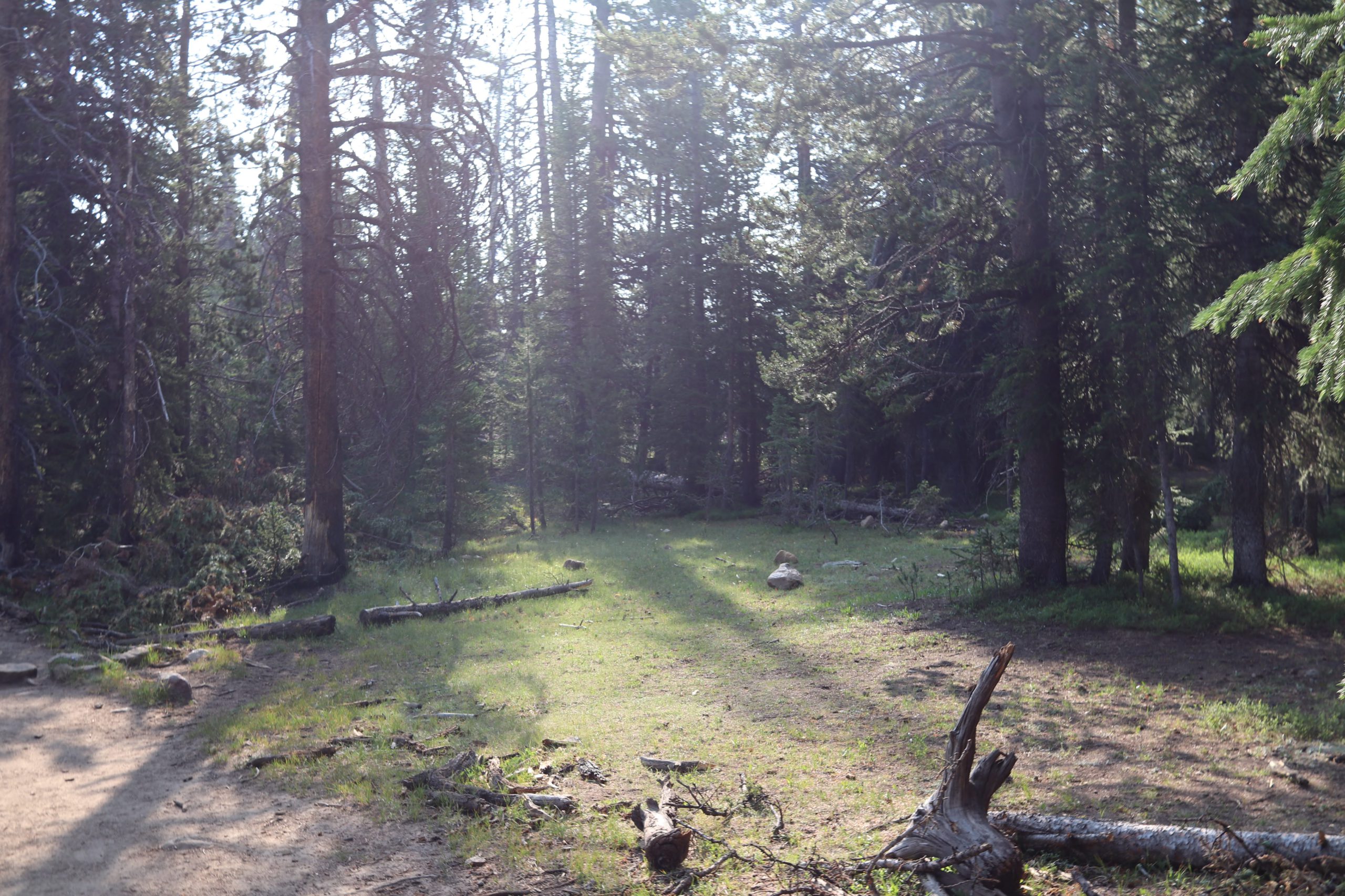 Before we got to Photographer's point we came across several wide open areas, called parks. Sorry, no swing sets or slides or drinking fountains. These are wide open areas with few trees. One of the parks was named after the famous mountain man artist, Alfred Jacob Miller. He archived the entrepreneur who risked his life for the exploits of the Western Frontier. Independent, fiercely strong willed, and valued freedom above all things. Sounds like a man after my own heart! The country's first millionaire btw, was a fur trapper! Great 6 minute video. 
Here is a great image of Miller Park, note that Treebeard came to greet us. We kept our distance, but he acted as sort of a guide as we progressed our way through the beautiful meadow and into our first serious climb. Yes, this is the first ever actual documented image that Ents do indeed exist.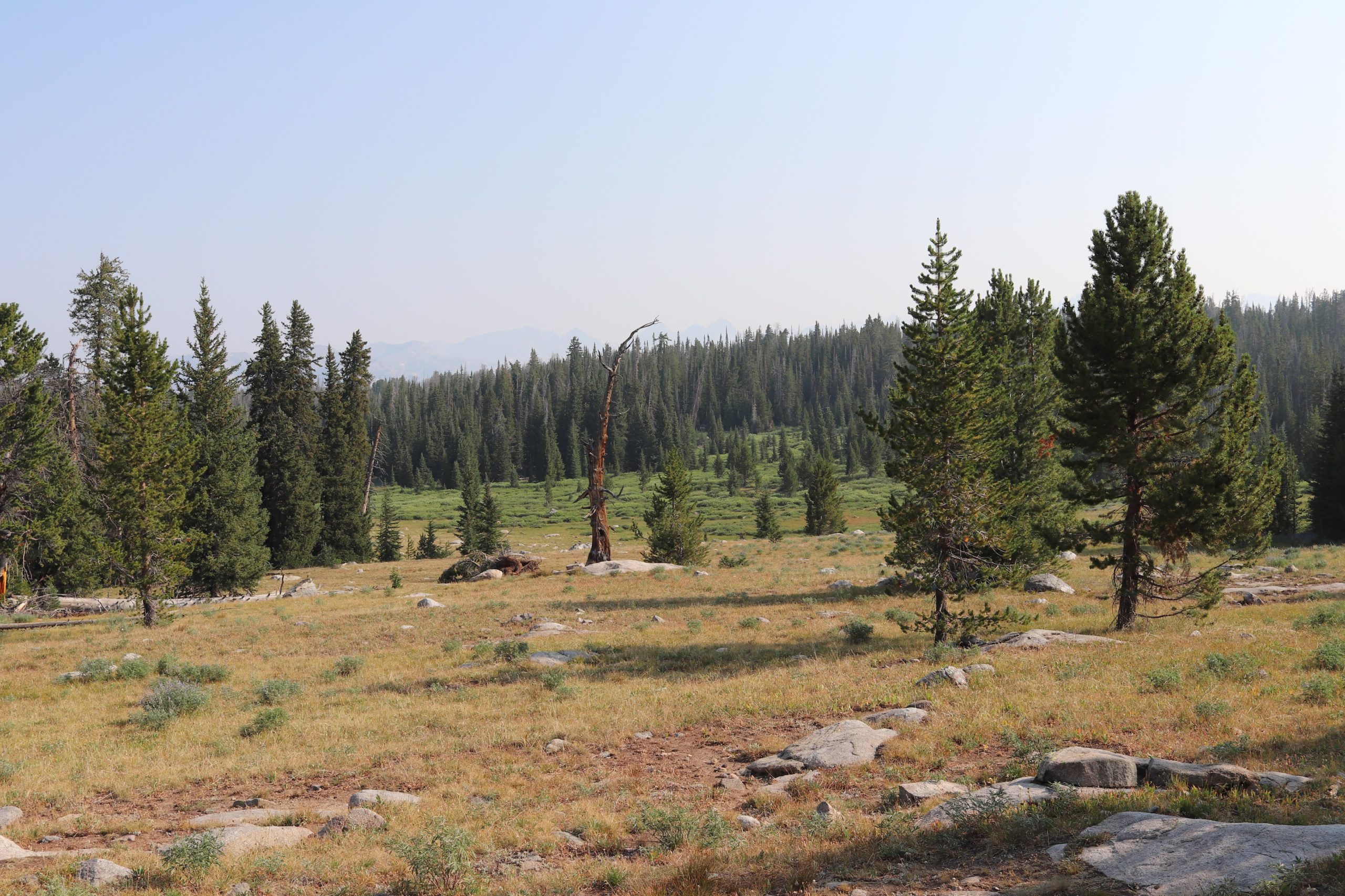 Hard to notice in this photo, but the landscape was also covered in small wildflowers of many different colors. Blues, greens, yellows, reds and others. The beauty was random, and mixed but created a patch work of color that was really amazing. The area was a bit dry, but even with that, there was enough moisture to keep the wildflowers blooming into late July.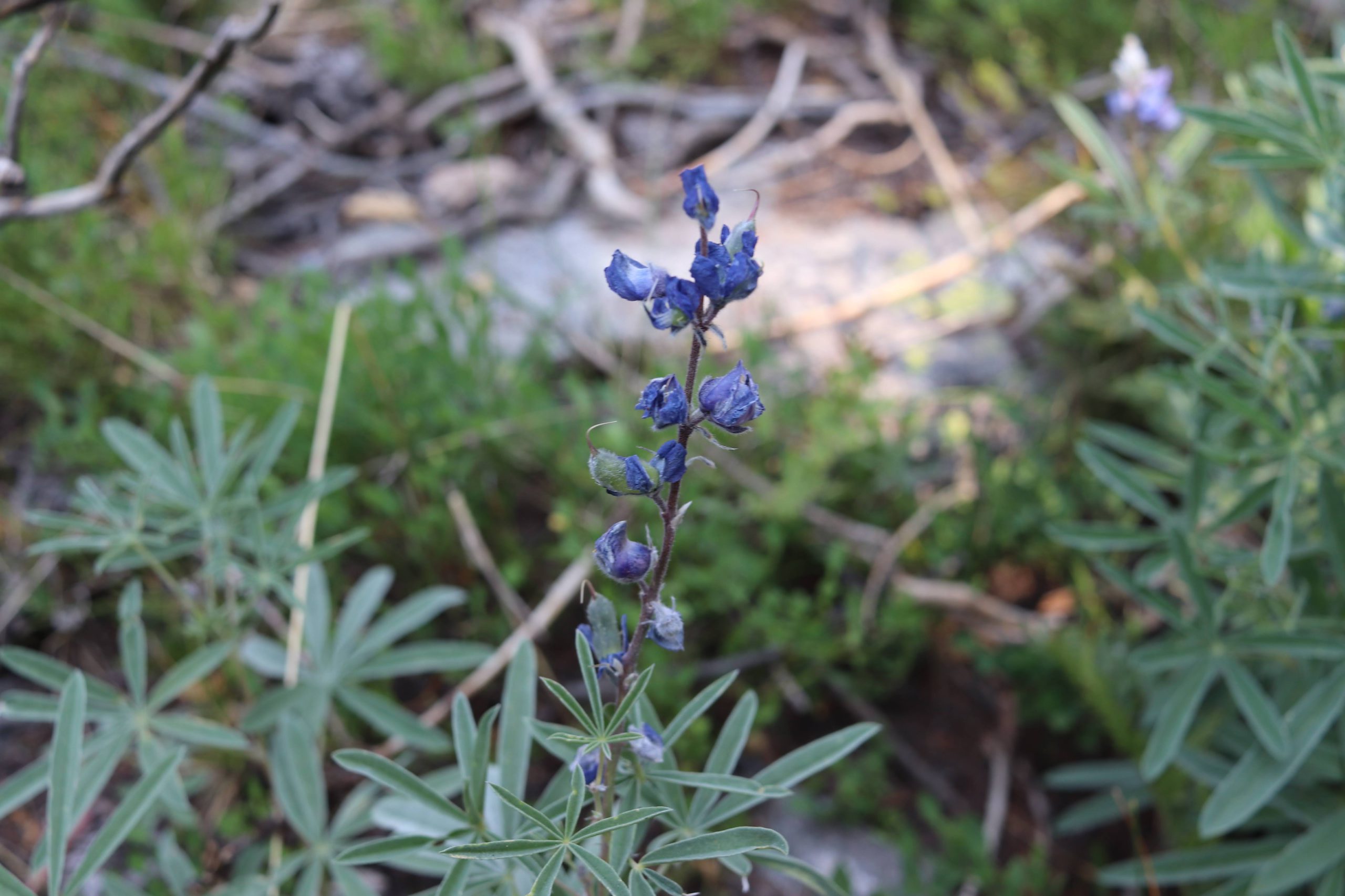 Soon after walking though various open fields, parks and forested areas we climbed our way up to Photographer's point. Now this is not actually labeled this way, there is no sign. However, you know when you get to it. You come suddenly to this wide open canyon on the opposite side of the Wind River Mountain range. The canyon was carved out by a giant receding glacier and creates this natural divide from where we were standing and our destination. This is why when we asked people how their trip went as they were coming down, they would say, we finally made it "out." They would wish us well on our way "in." Photographer's point marked the turn around point for most of the tourists and was the start of our journey in earnest. The view that day was not great, very murky from the smoke in the air.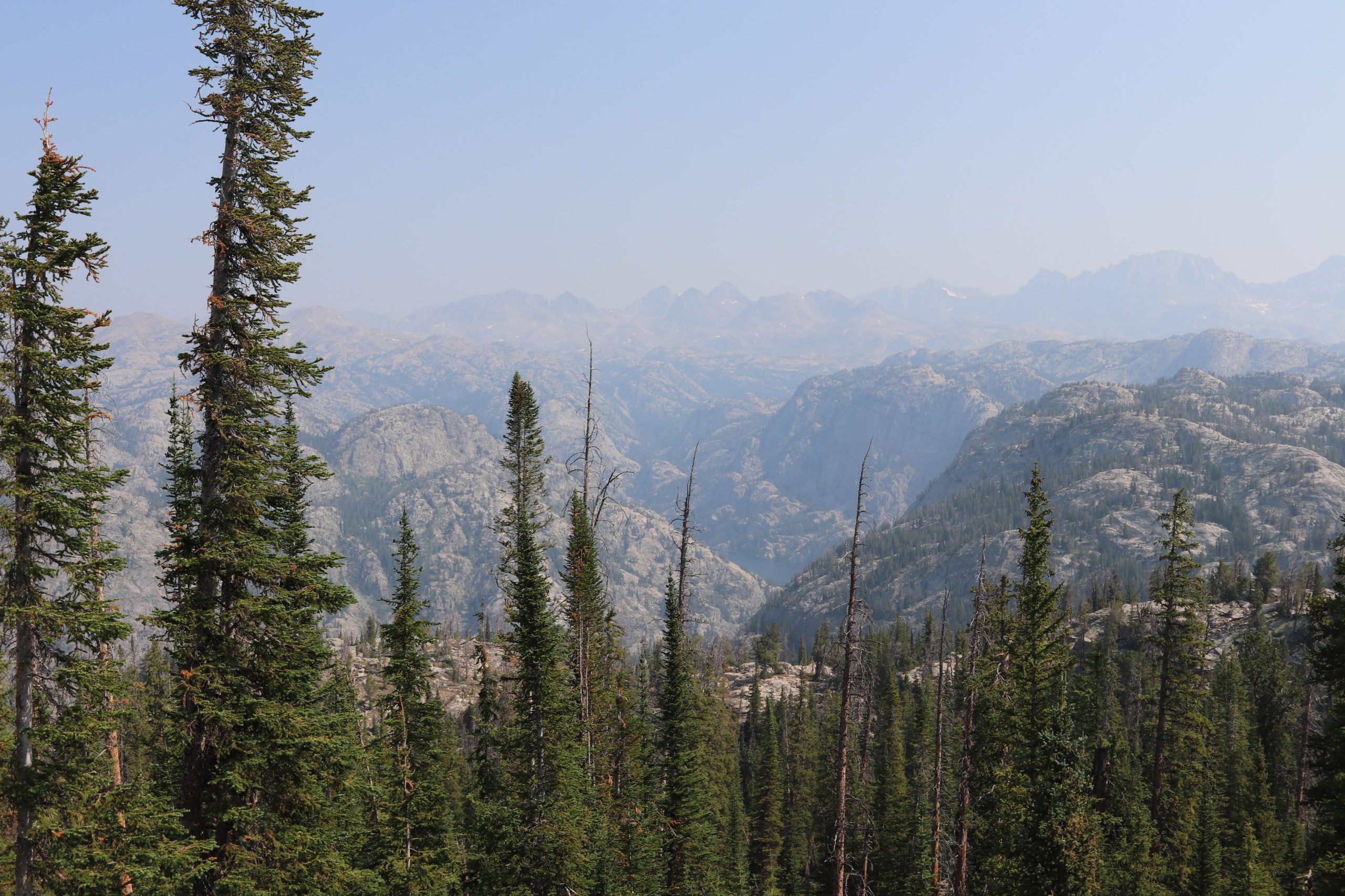 You can see a lake called, Long Lake at the bottom of the photo if you look carefully. Distantly in the haze you can see the outline of the Wind River range. By contrast, when we came back a week later we had a much clearer view. The storm that came through had cleaned the air and we could now see this same view in a much more spectacular fashion.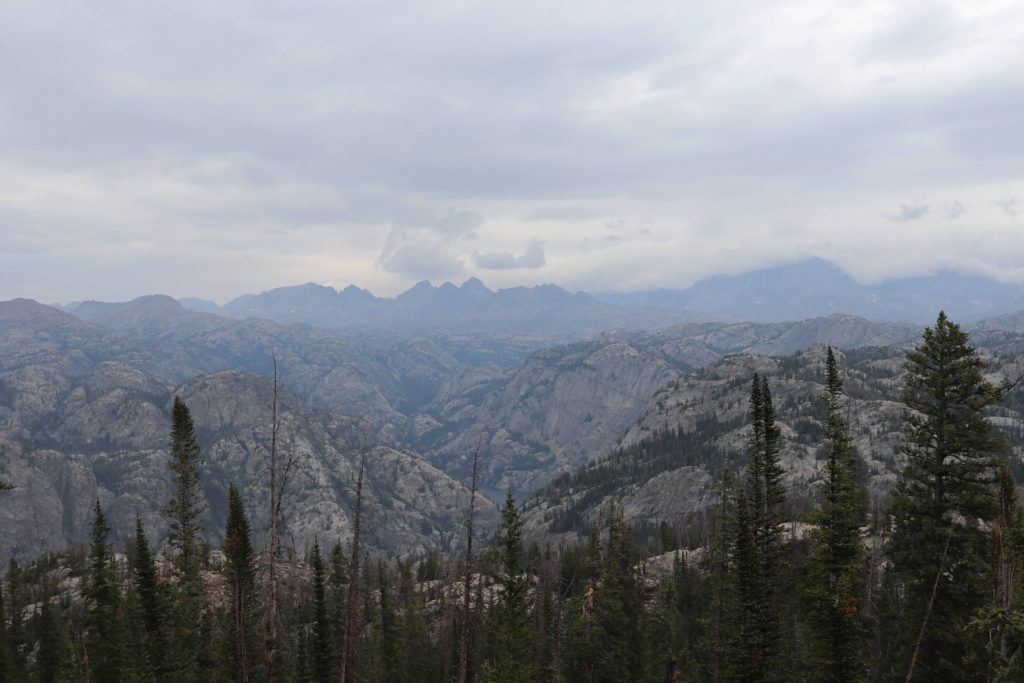 Note that the clouds are covering Freemont Peak, that is where we were just a few days before taking this photo at the tail end of the trip!
Now the hike would begin in earnest. We came down from Photographer's point and started making away across a natural land bridge that drops into the foothills of the Wind River Range. The first major point would be a trail split off that occurs at the first major lake that we would encounter, called Eklund Lake. We had some climbing and some downhill sections as we made our way to the area that would drop down into the basin between the Wind River range and where we currently hiking.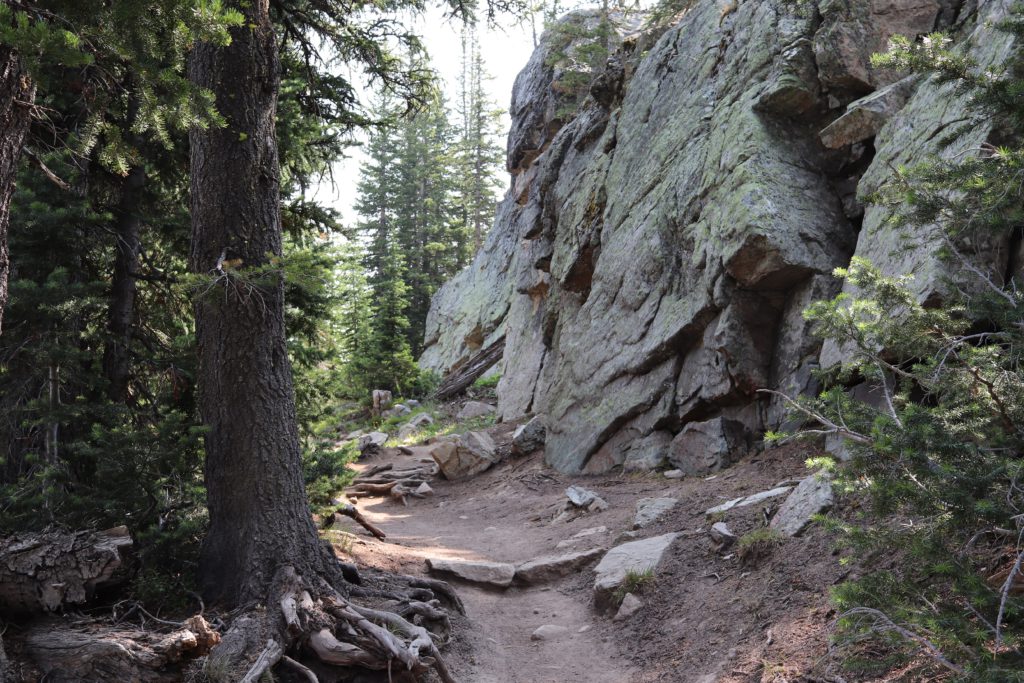 One thing to realize about the Wind River area is just how many lakes there are. They are everywhere and many of them are unnamed. The water from the mountainous area drains into these basins that we frequently would hike across. They were at times very striking as you would come around a bend, or up a hill and find a pool of water with a reflective glassy surface.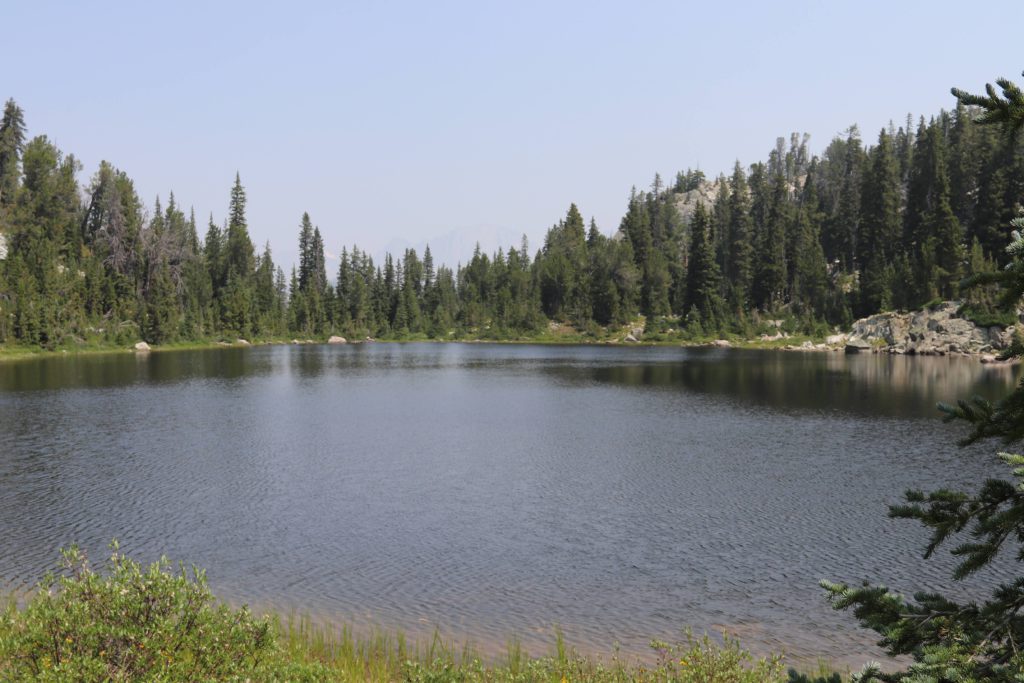 We stopped for lunch at Eklund lake where the Pole Creek trail met the Seneca Lake Trail. Here is where we would take a turn to head into the heart of the Bridger Wilderness. A hiker we met there told us that people had seen a Grizzly that morning swimming in one of the lakes along the trail. That was an exciting bit of news, as everyone that hikes this area is worried about potential Grizzly encounter. Everyone has a giant can of bear spray attached to their backpack or belt as crutch. As if a cloud of pepper spray would stop a pissed off Grizzly. My idea is just to avoid them at all opportunity and if you do encounter one, do nothing to get him or her excited!
Soon it was time to drop down into the valley following the Seneca lake trail. There are many such passageways like this along this trail and we slowly dropped down and then climbed back up each of these as we made our way up to the Seneca lakes.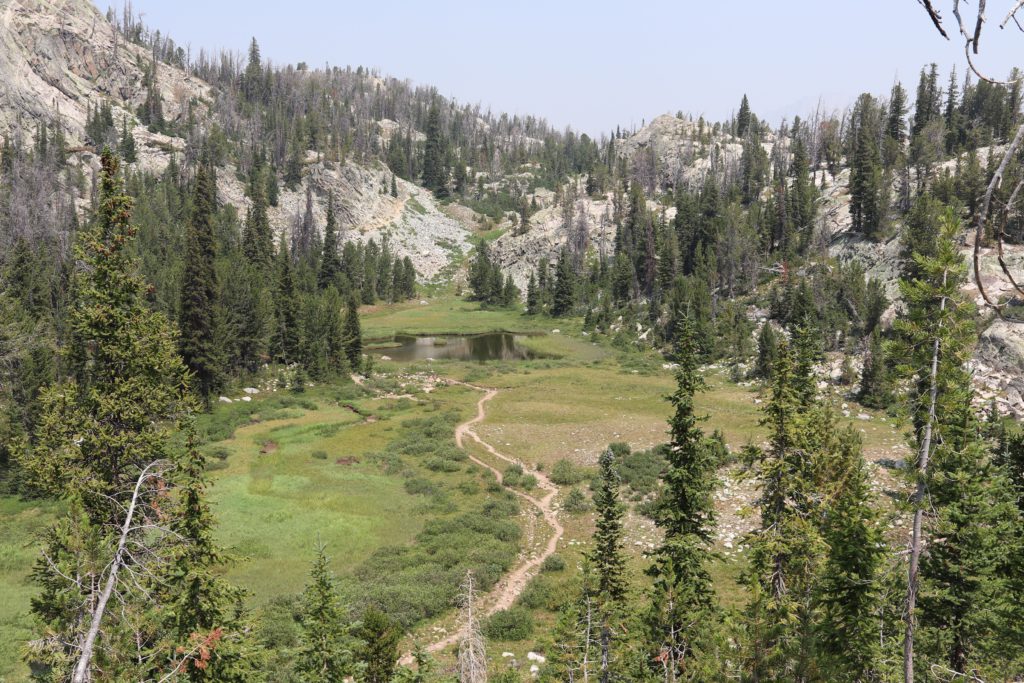 The first major lake we came across was Hobbs lake. This was a moderate sized lake, that offered our first glimpse into the magnificence of the area. This particular picture is significant because many days later we would find refuge in the little hilly area to the right of this picture. That is where we would pitch our tents in a rain storm and hold out until we could hike out in the morning.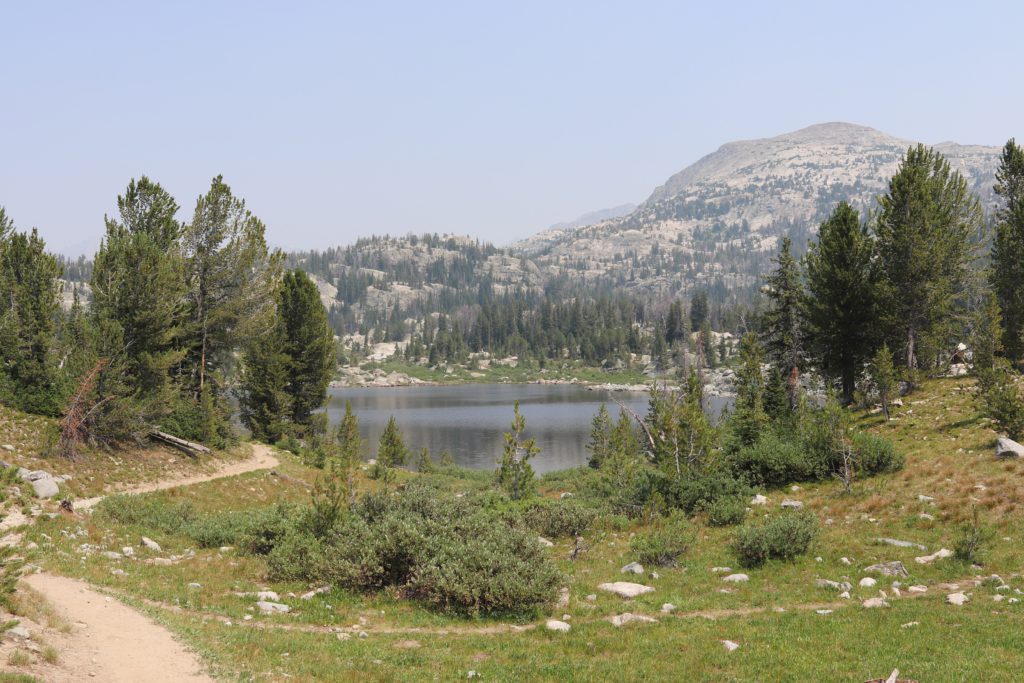 Our first stream crossing came on the way up the trail, just passed Lake Hobbs. There would be several more like this along the way.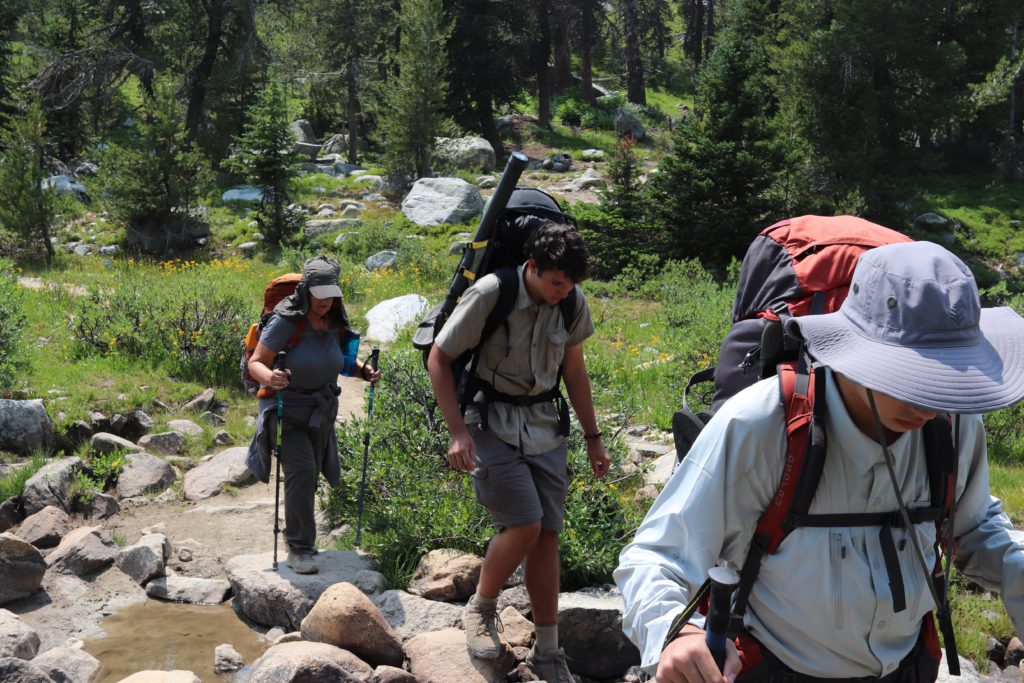 Here is the stream crossing as we marched up the difficult, switched back trail that headed up to the main Seneca Lake.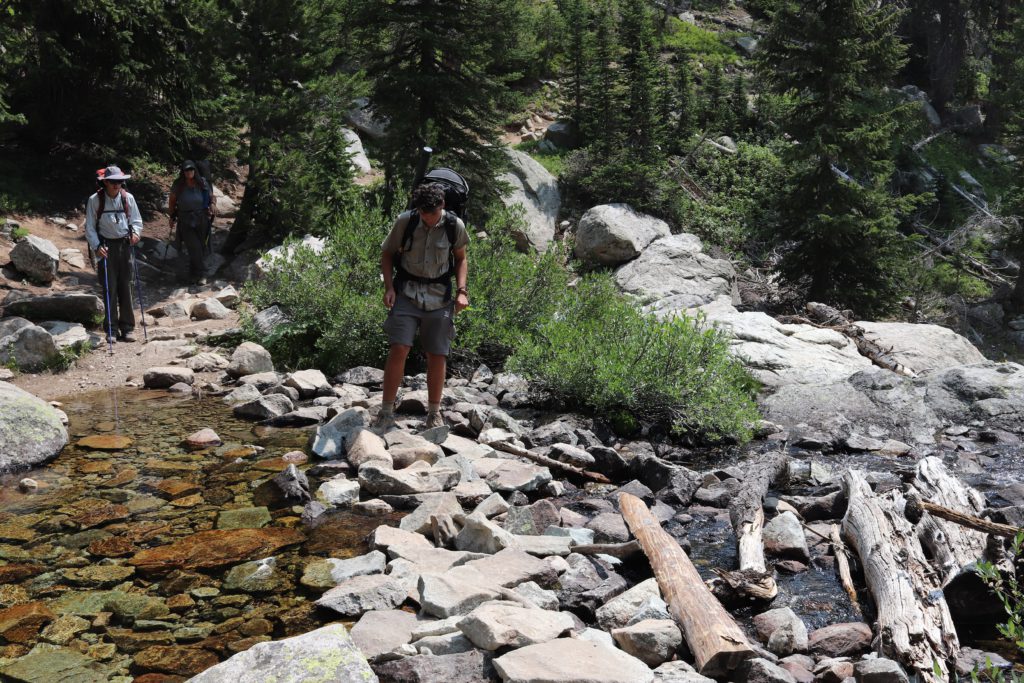 After long last, and a long day of hiking we finally crested the first major climb and we set our packs down and decided we found our first camp site of the trip. Seneca Lake was quite beautiful.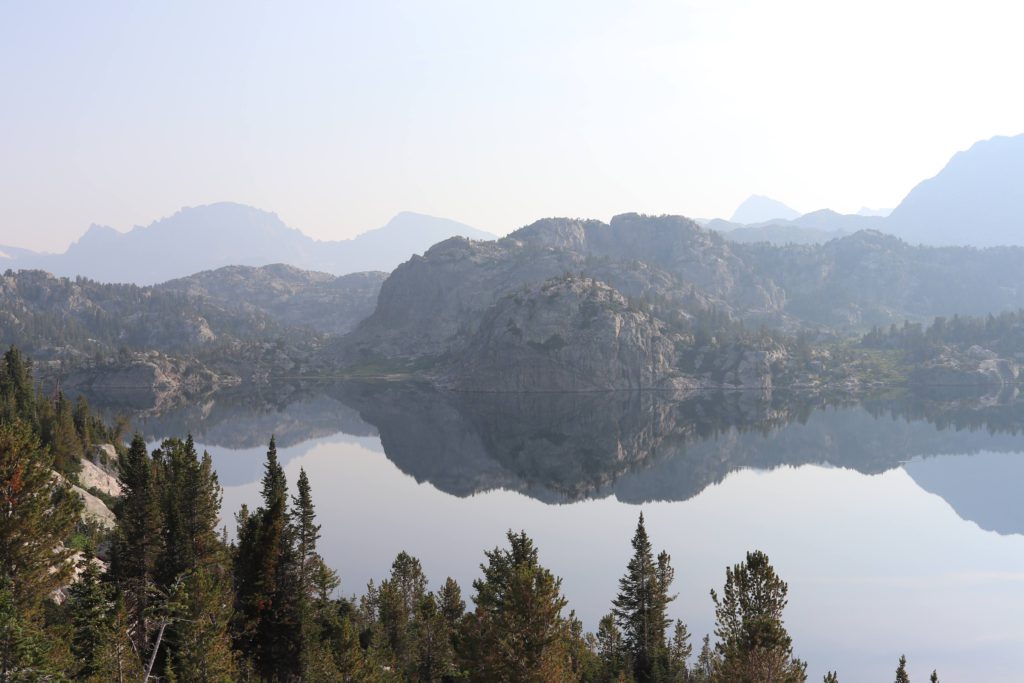 That night I got up to find that the moon had risen over the lake. I went from seeing the sunset being reflected in the lake and then seeing the moon rise reflected in the lake. I had a difficult time sleeping and it was because of the absolute still quiet of the place. Have you ever had ear plugs in your ears and had this weird sense of not being able to hear anything, this was like that. For the first time in many many years, I could hear absolutely nothing. There was no wind, so I could not even hear the small ripples of water lapping against the rock edges. No air planes, no freeway or road noise. Nothing. Absolutely nothing. Not a single sound to be heard in the entire area. With glow of the moon settling across the lake, and the reflection of the scenery glowing back in the reflection, I sat there and gazed into the very soul of nature itself. Incredible.
The morning came and we got packed up and started down the trail. We could see distant Freemont and Jackson peaks reflected in the lake. It was hard to believe that we would be climbing up there, but we were. Here we go! Saddle up!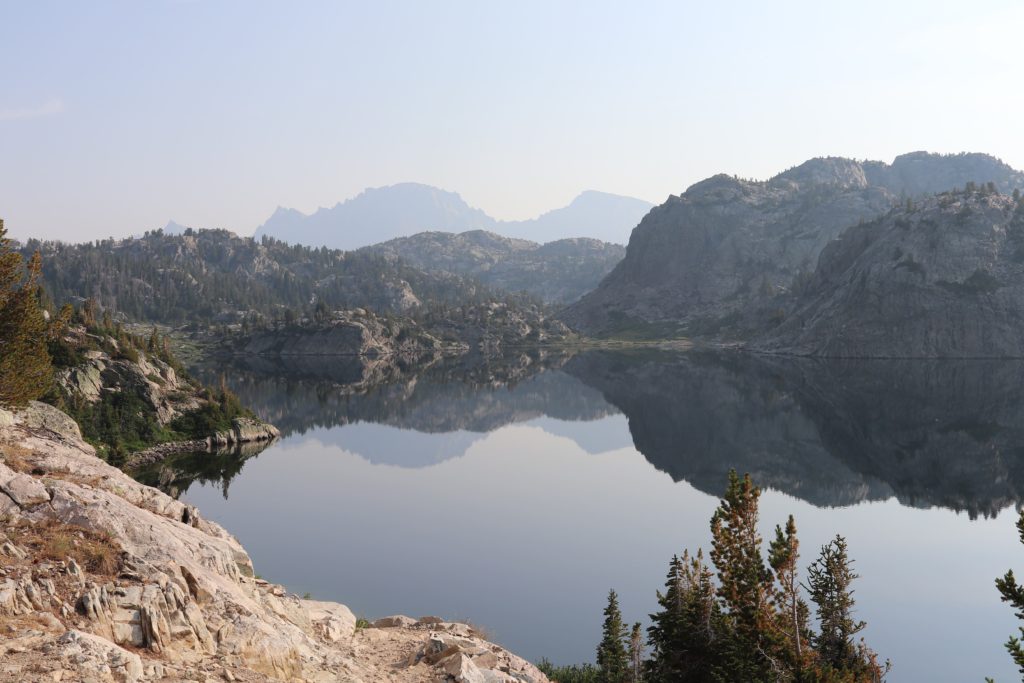 We soon passed Little Seneca Lake and found a few hikers that had passed us the night before. We came across the famous Continental Divide Trail (the CDT) and met many hikers that were on extended trips, that went for hundreds of miles. Many mule trains passed as well, taking teams up into the wilderness for extending "glamping" experiences. Wimps, I will take my light weight backpacking stove, freeze dried chili mac and oatmeal mornings thank you very much!
Little Seneca lake was fun, as it had a nice island in the middle of it.
This was a very interesting part of the hike as the trail meandered around the edge of the lake creating this very romantic feeling as we strolled through the trail on the lake edge. That was until we remembered that in the Tolkien story the deep water creature that reached its long arms out of the murky water to grab the weary travelers!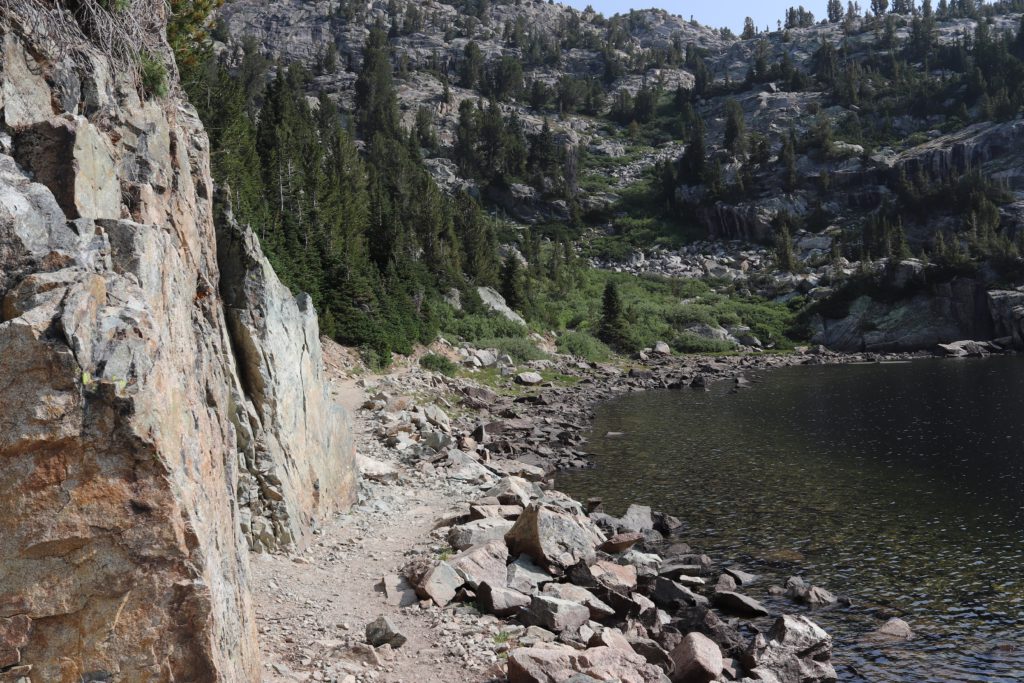 When you are hiking long distances such as this, you start to come up with lot of fun games. We all have trail names, btw. We were no longer Kathy, Jayson, Ayden and Guy. We were Kat, Sleeping Beauty, Sherpa and Turtle. We also came up with many fun jokes, puns, sang songs and argued about the parts we could not remember. As it turns out Jayson, remembered many of the Grimm fairy tells which kept us entertained on this leg of the journey.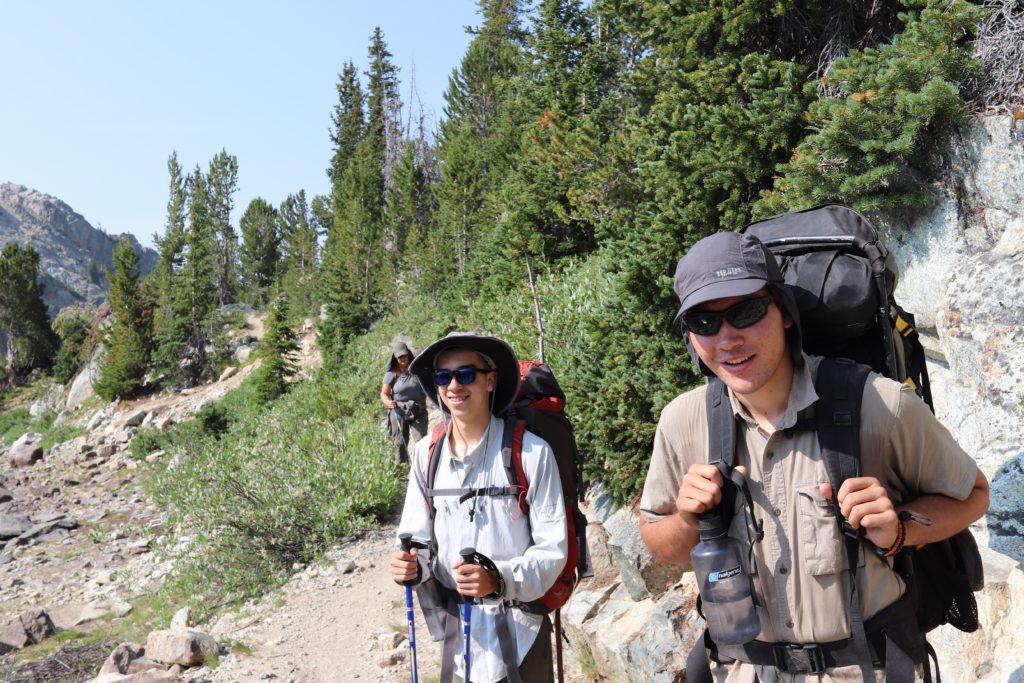 Luckily for us, there were some signs that had been posted along the way. We were excited to get to the first indication that we were heading the right direction. We were going to Island lake the and Freemont Crossing of the Continental Divide.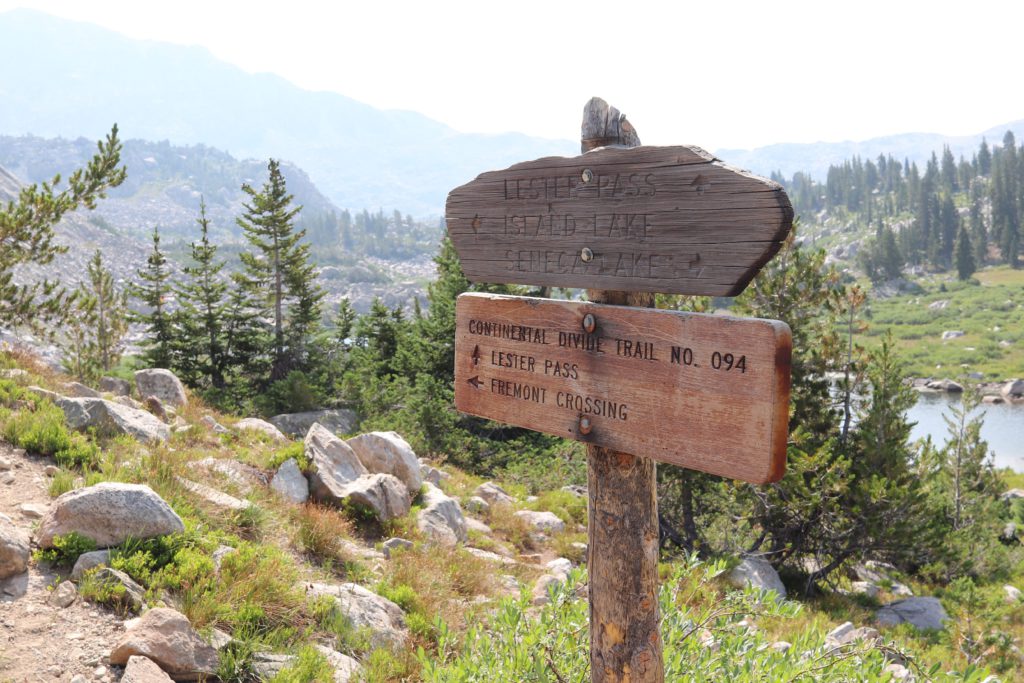 The hiking got tough however. Frequent climbs, followed by valleys filled with meadow lakes. We were impressed by the rugged nature of which we were traversing, but also just in complete awe of the beauty that was everywhere.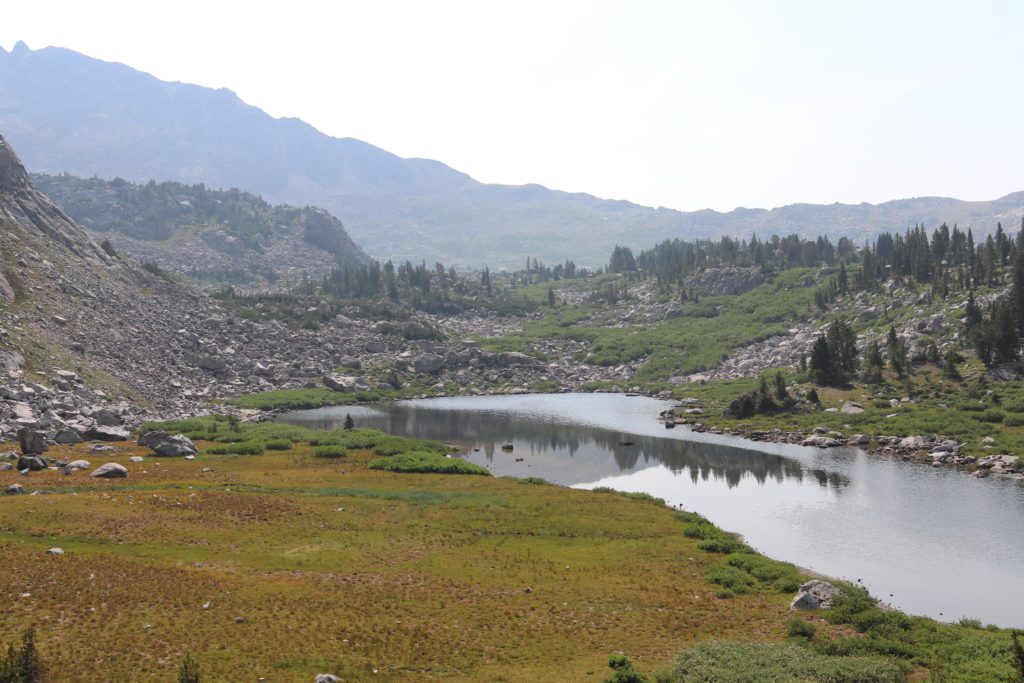 We would climb up rocky paths, with evidence of glacier activity at every turn. Here is a giant boulder that had been deposited here at least 700 years ago.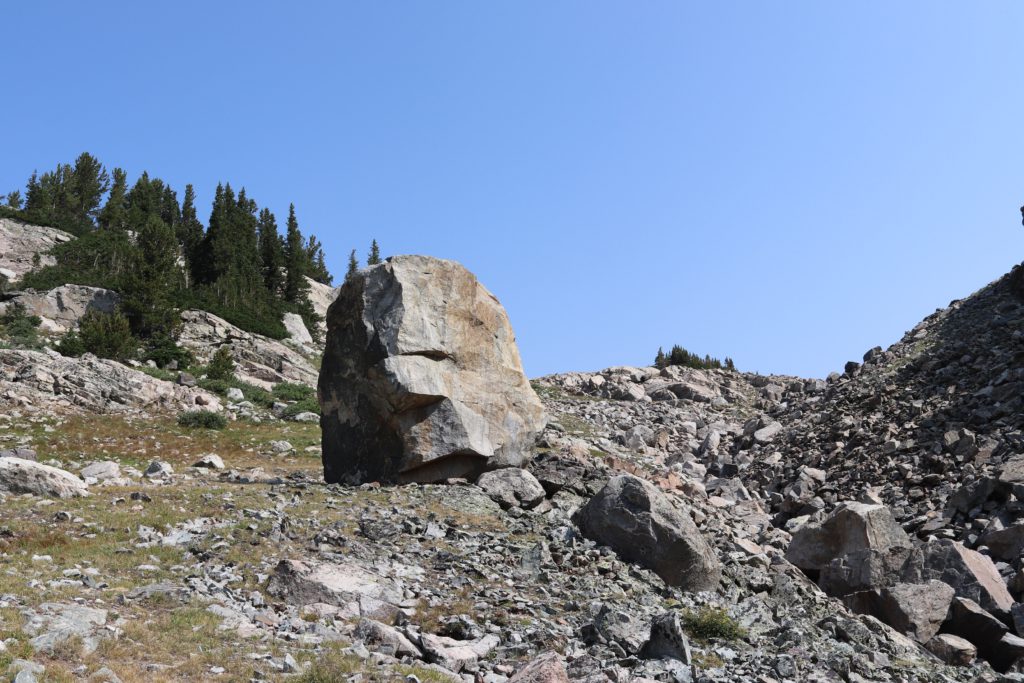 Passing this rock, we were finally able to get a clear view of the Wind River range in it's full majesty. The small dip to the right is called Indian Pass Crossing, The furthest peak on the right is called Knife Point. The two mountains on the left are Jackson and Fremont peaks, respectively. Both sit at above 13.5K feet.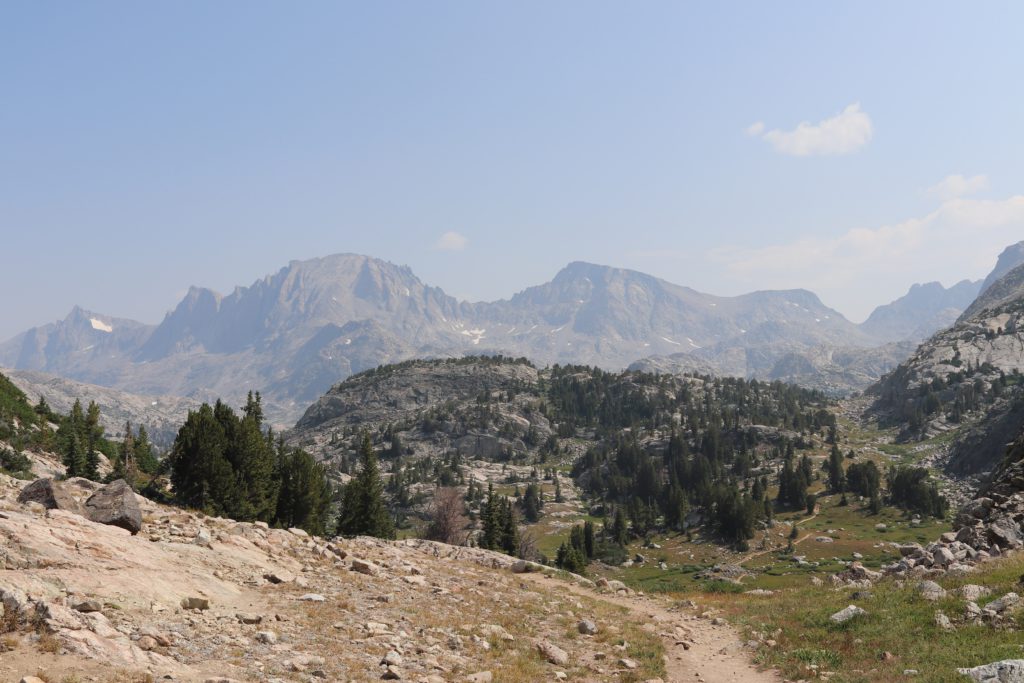 It was now time to head up Indian Basin trail to Island Lake.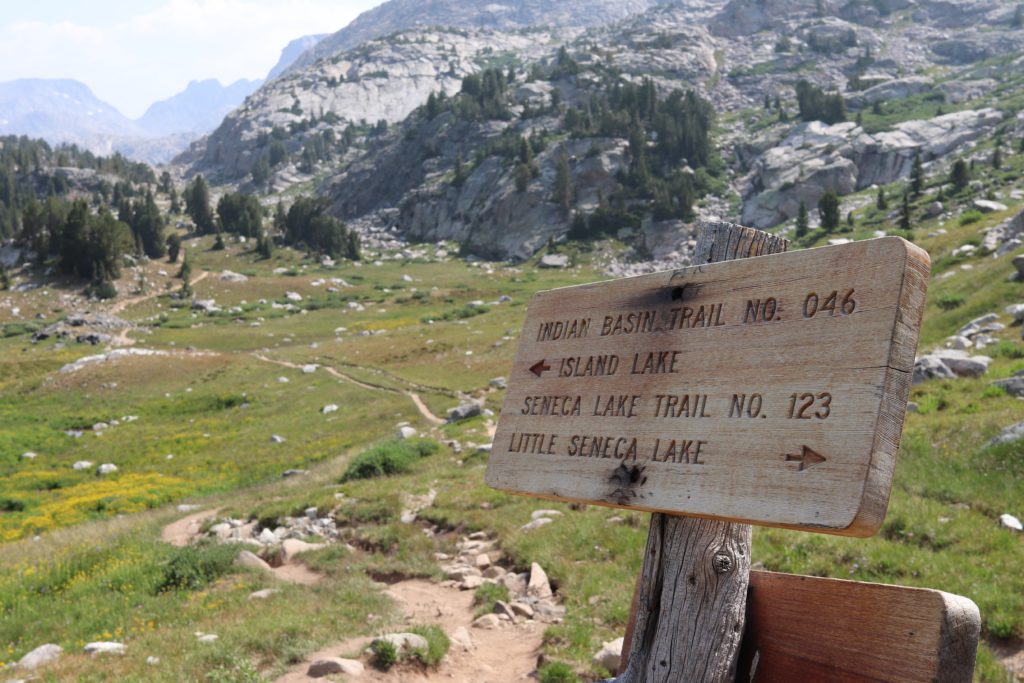 Along the way we were treated by lakes, little valleys, and fields of wildflowers. Hard to describe how incredible this was, and pictures do not do the feeling and the view justice.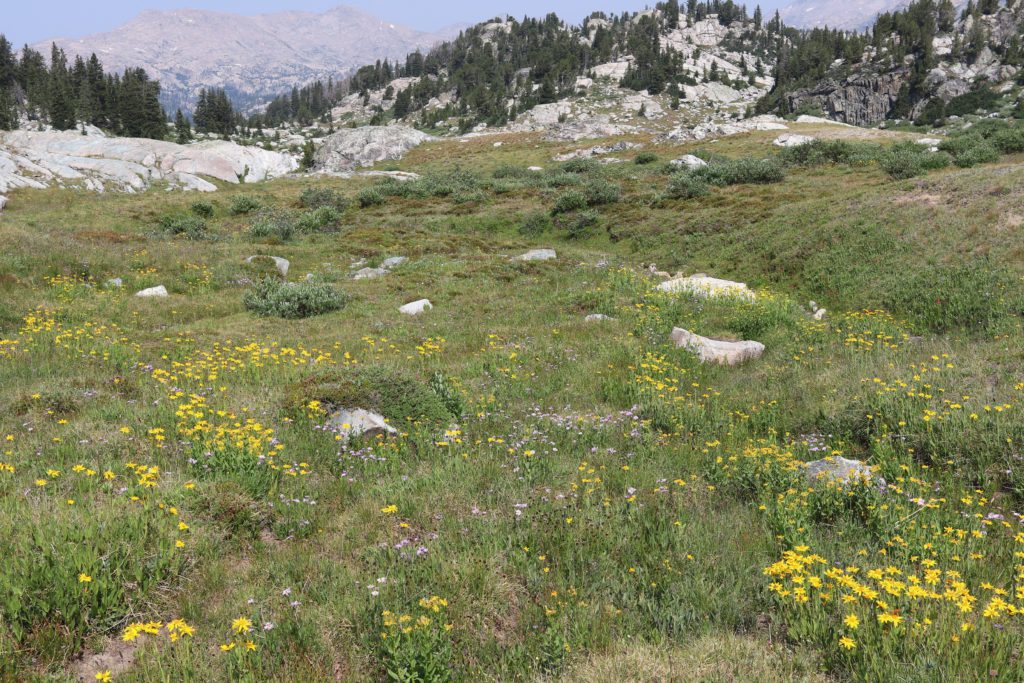 Climbing up over the pass we got our first views of Island lake. I thought this would be the most beautiful thing I would ever see in my life. I was wrong about that, that would come the next day. However, Island Lake is very stunning, nonetheless.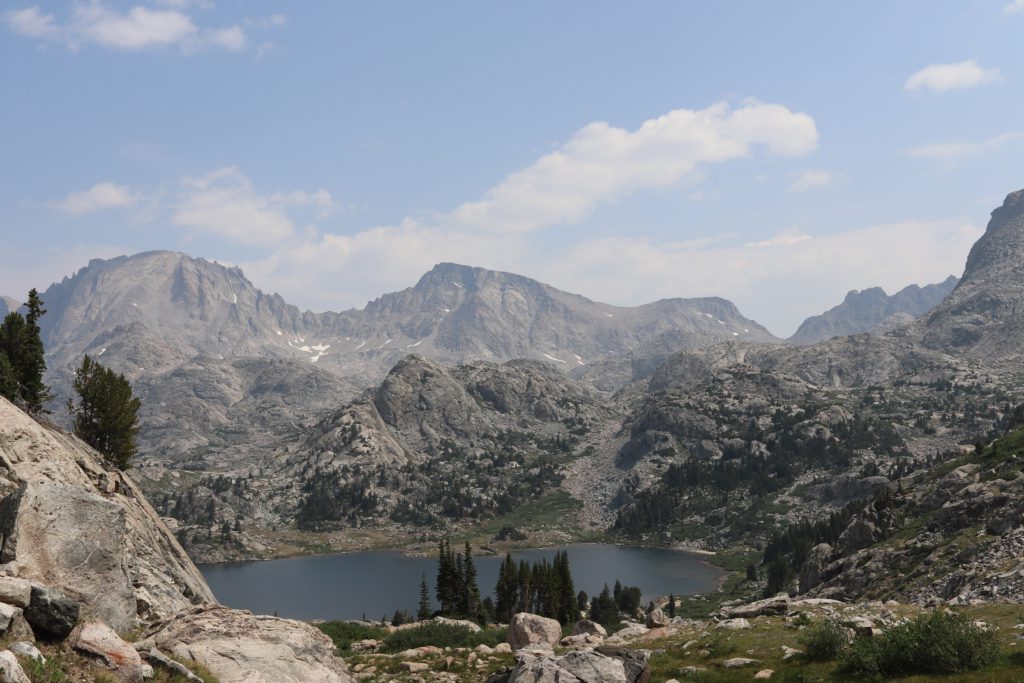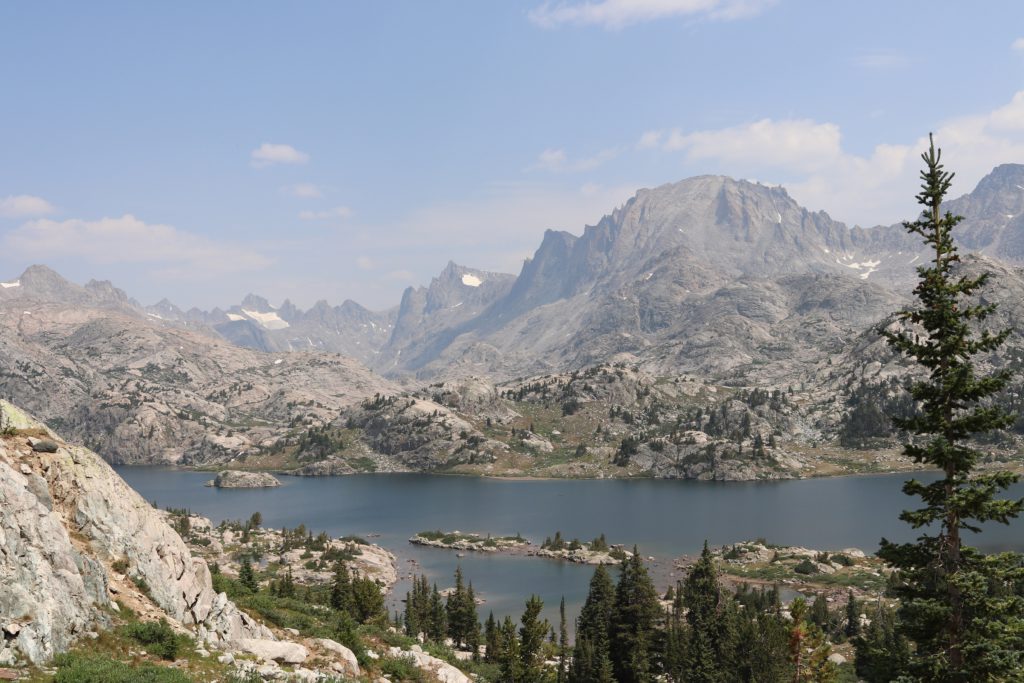 We hiked through the Island lake valley until we found a suitable spot to set up camp. Island lake had many small lakes in the area and we decided that this particular spot was just breathtaking. Island lake is in the distance and the little "pond" we camped near is in the foreground.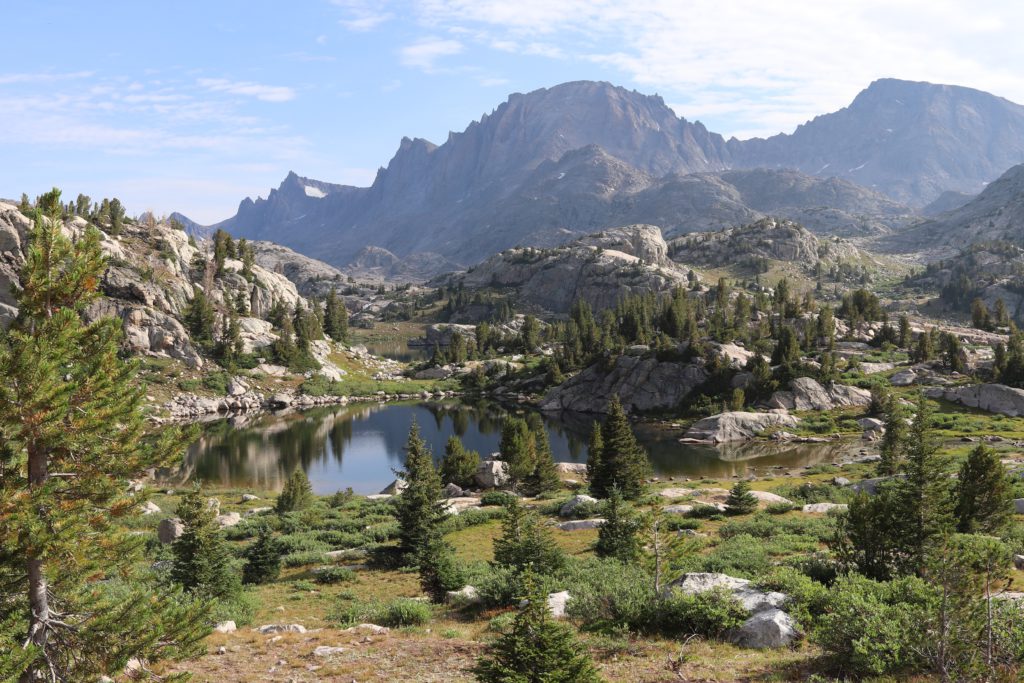 We setup camp and got settled in. Enjoyed our evening. We would spend three nights here using this as a base camp for some of our explorations of the area. My son got some light reading done, Dostoyevsky's Crime and Punishment and Jayson would try his had at replicating ancient cave paintings with old charcoal drawings.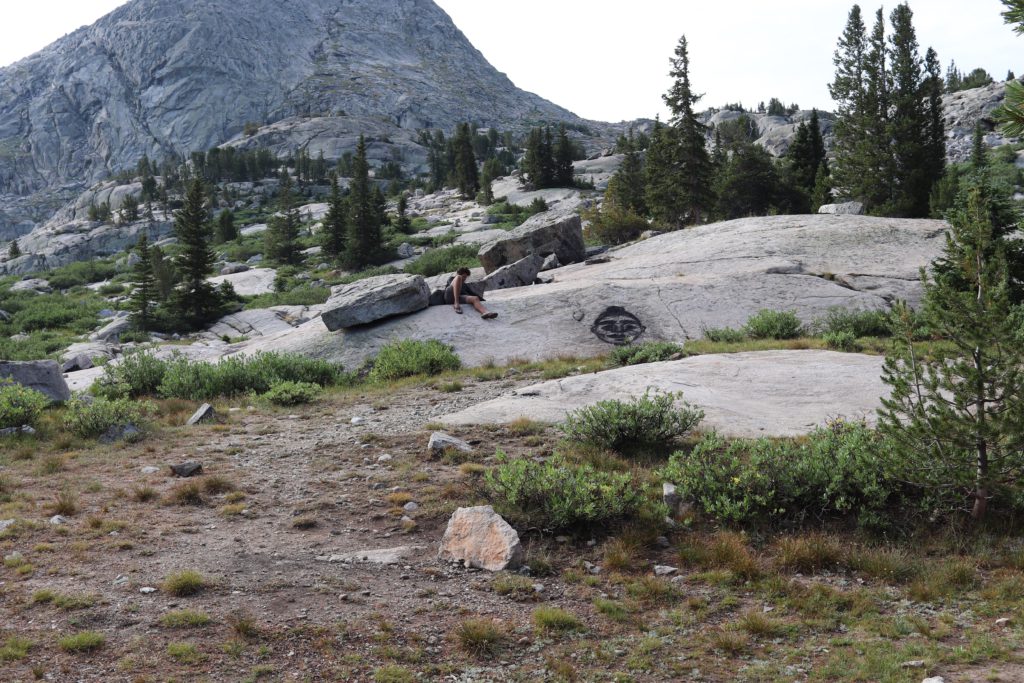 The next day we decided to go on an extended adventure up to Indian Basin and Pass Trail to see the Ticomb Basin area. The trip around Island lake was incredible, to say the least.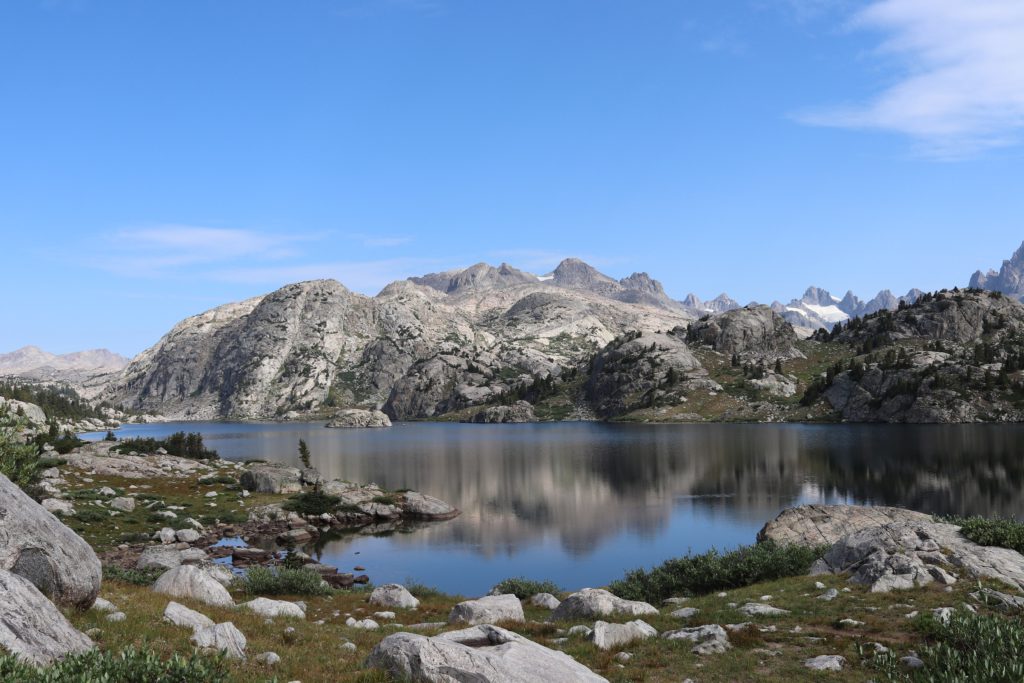 Wildflowers were in full bloom here.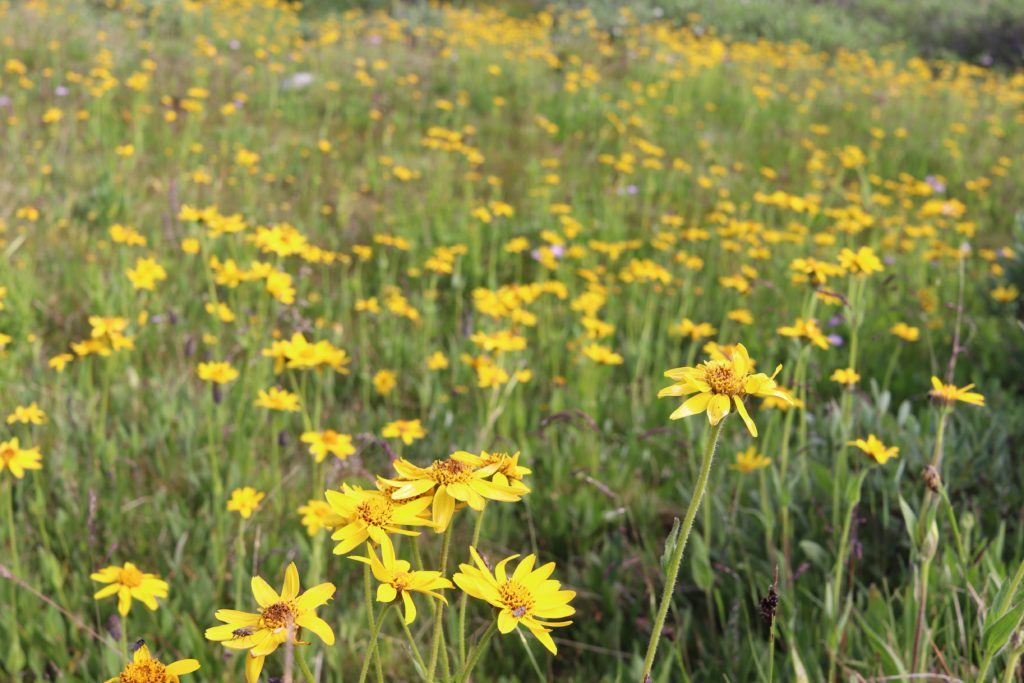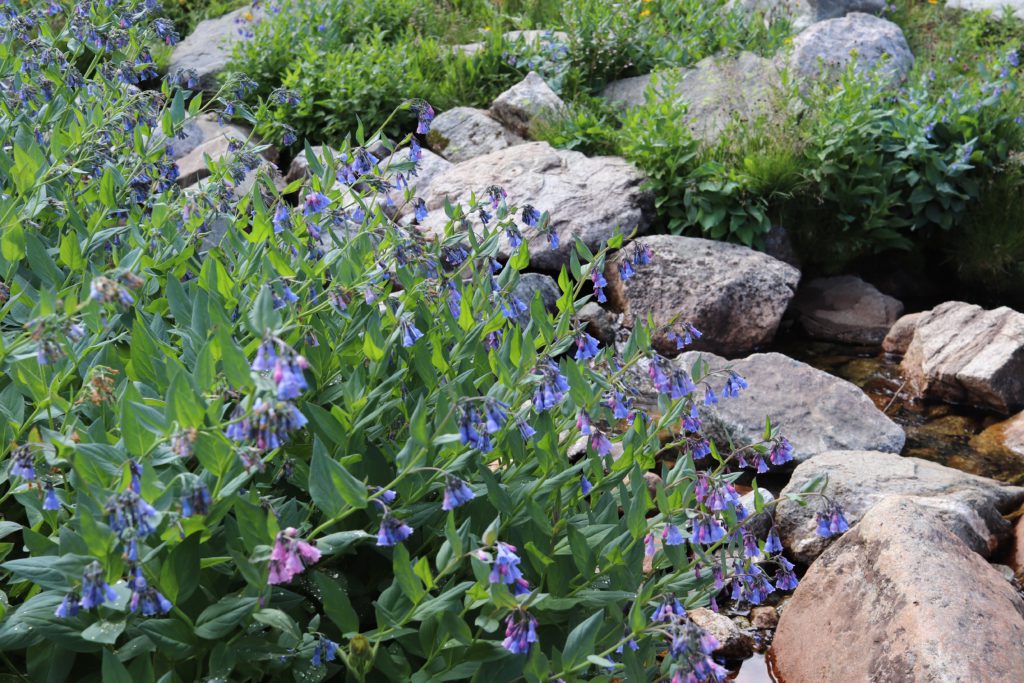 Also, it was rather amazing to find almost turquoise water, with nice white sand beaches to dip our toes in. Paradise above timber line!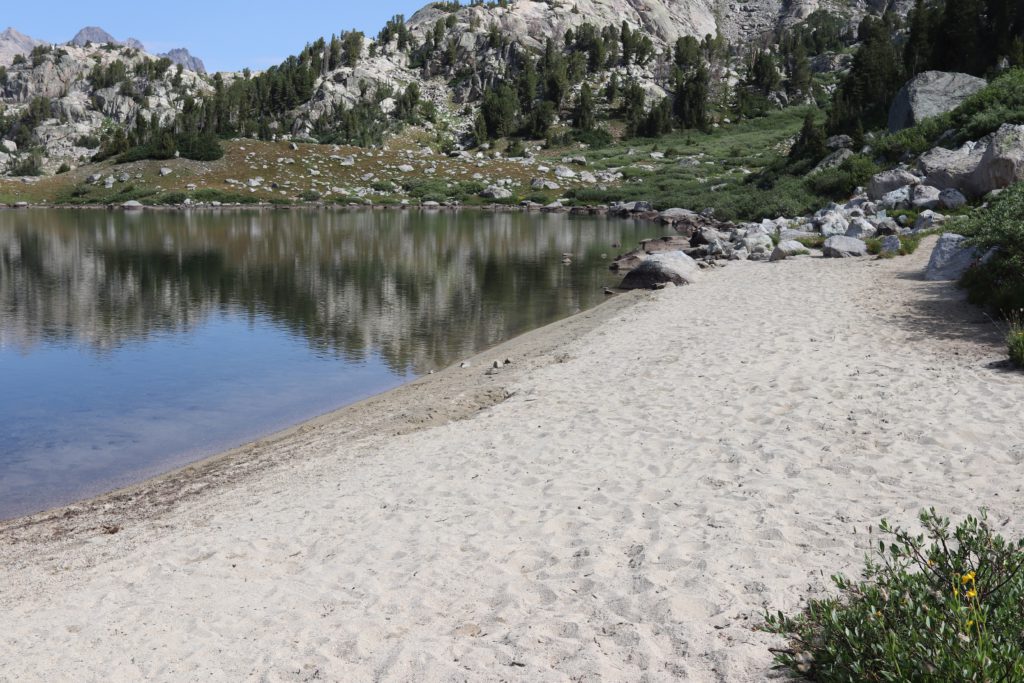 Climbing out of the Island lake basin, we were blow away by a water fall on the other side of Island lake. Can this get any more beautiful? Well, at the next 500 feet above the lake basin at a tributary stream area, we found an even greater explosion of colors.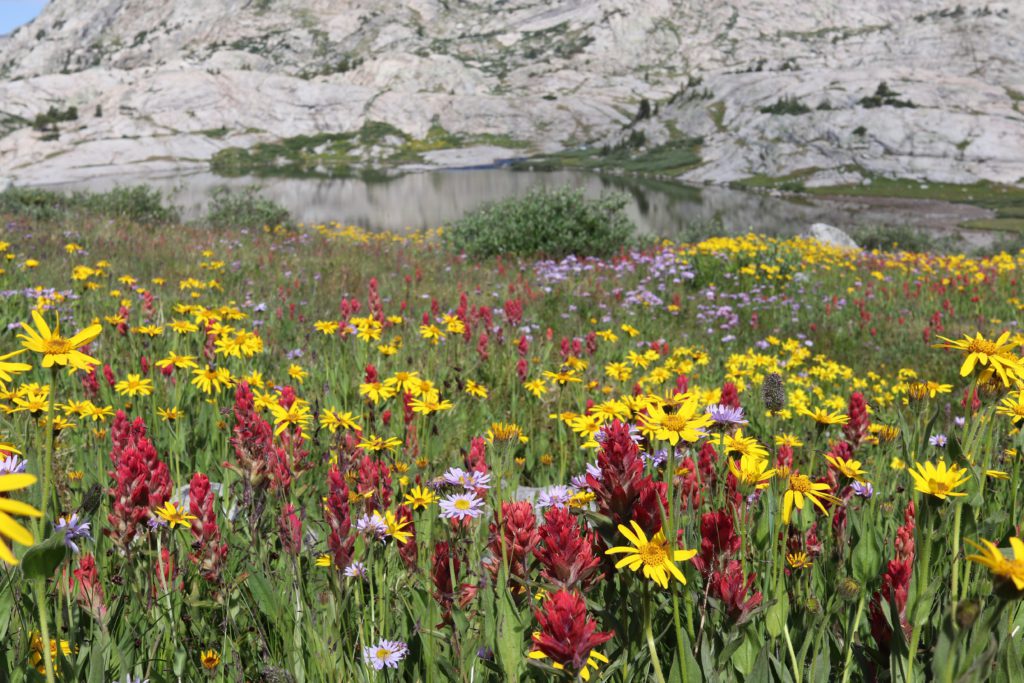 I believe we were quite literally walking through an impressionist painting. Hugh white fluffy clouds, granite rocky peaks, glassy mirrored lakes, blankets of colorful wildflowers, and streams of water with cascading effects of nearby rocks. Yeah, I am not sure you will find a more beautiful treasure in all the earth. Well, yes, there is one. That is coming next.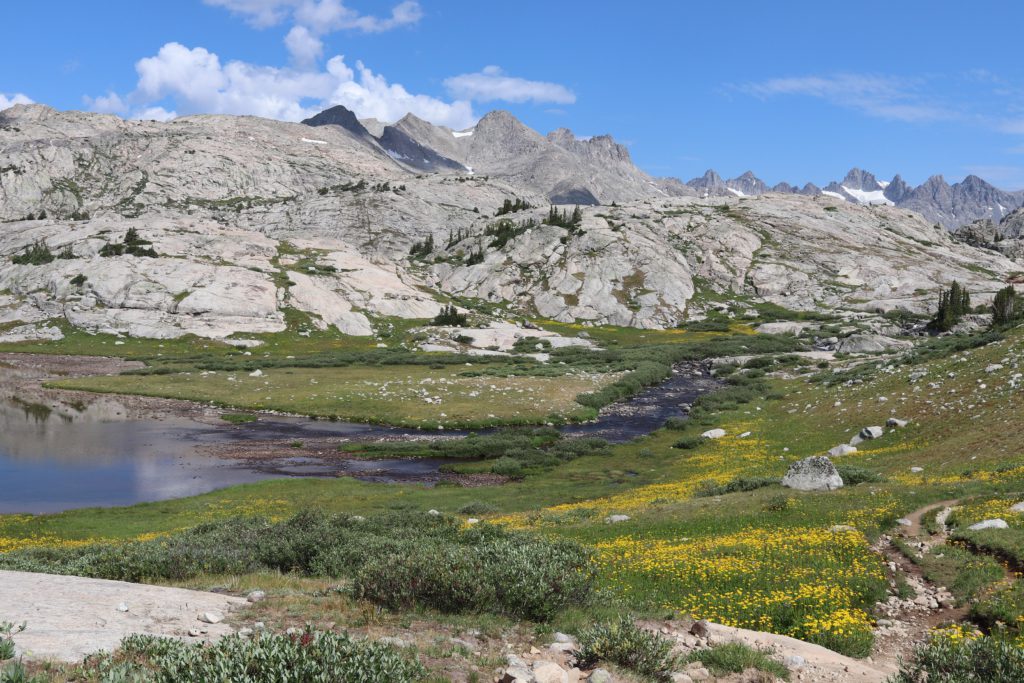 Kat thought that we may have discovered heaven, I think she might have been right. Soon we crossed a boulder strewn river, with cascading terraces of water flowing in, around and over the rocks. We were on our way to Ticomb Basin. I met a man coming down from Fremont peak area, who tried to explain to me how amazing this all was. He was here for his first time and then he started to cry, he just could not explain how much this area impacted him.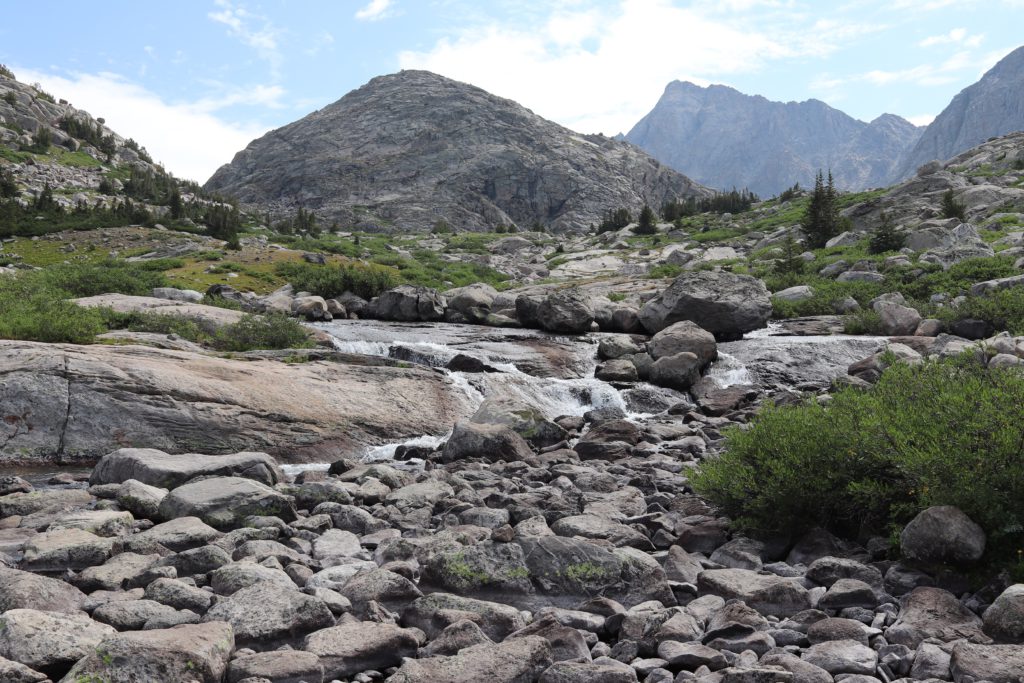 Ticomb basin is guarded by some massive rock formations. We climbed our way through anticipating what we would find on the other side.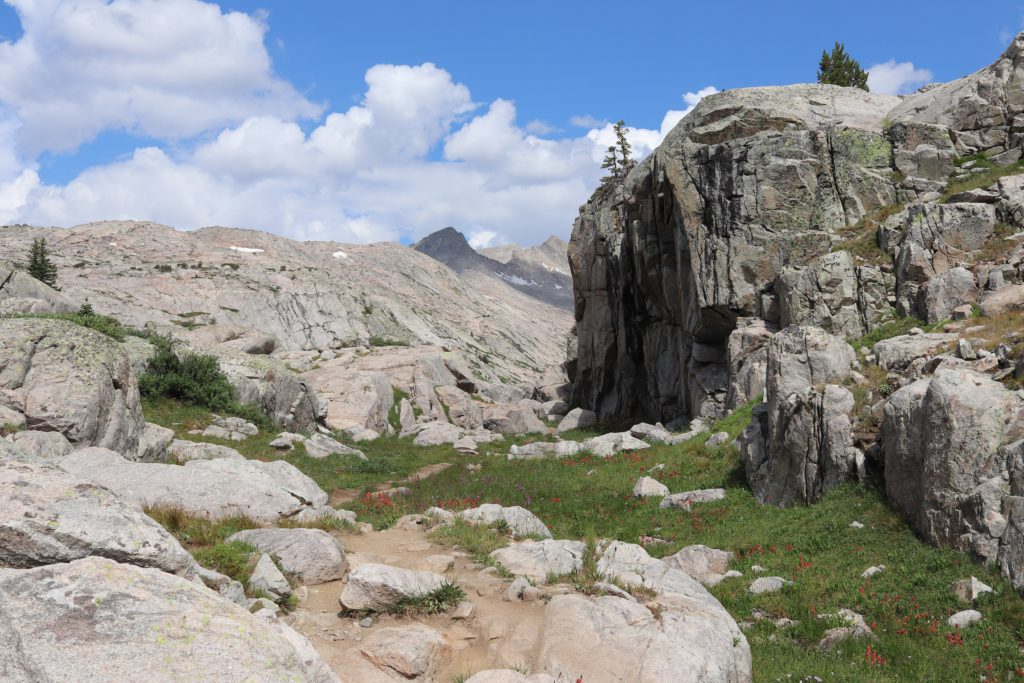 Sleeping Beauty would find a patch of snow to play in. Snow angels anyone?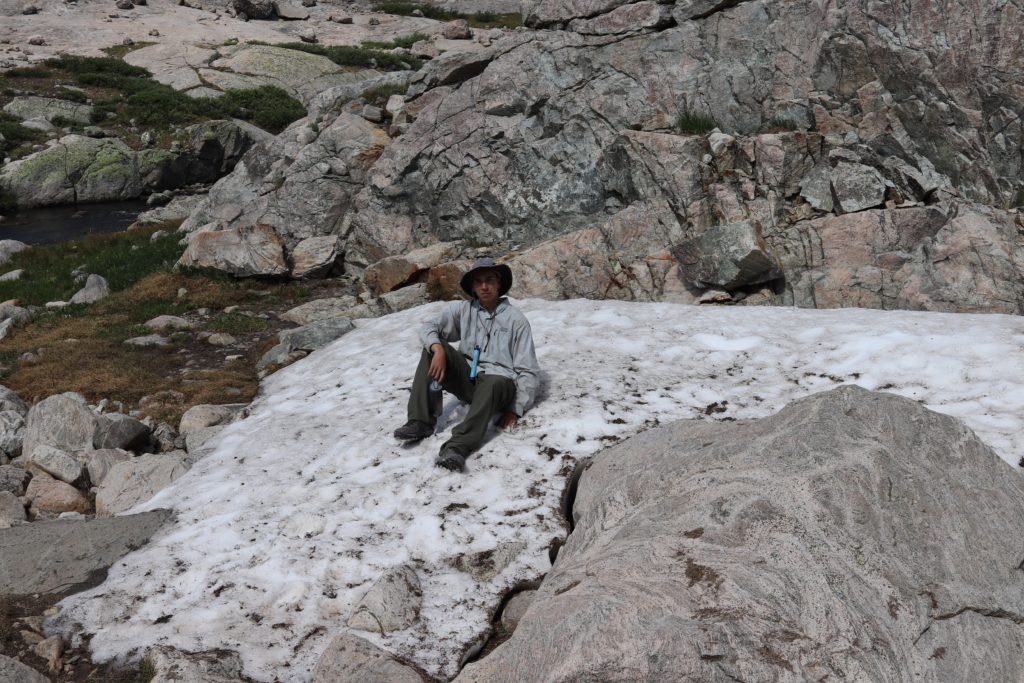 Or how about a small river valley with deep pools of transparent blue water?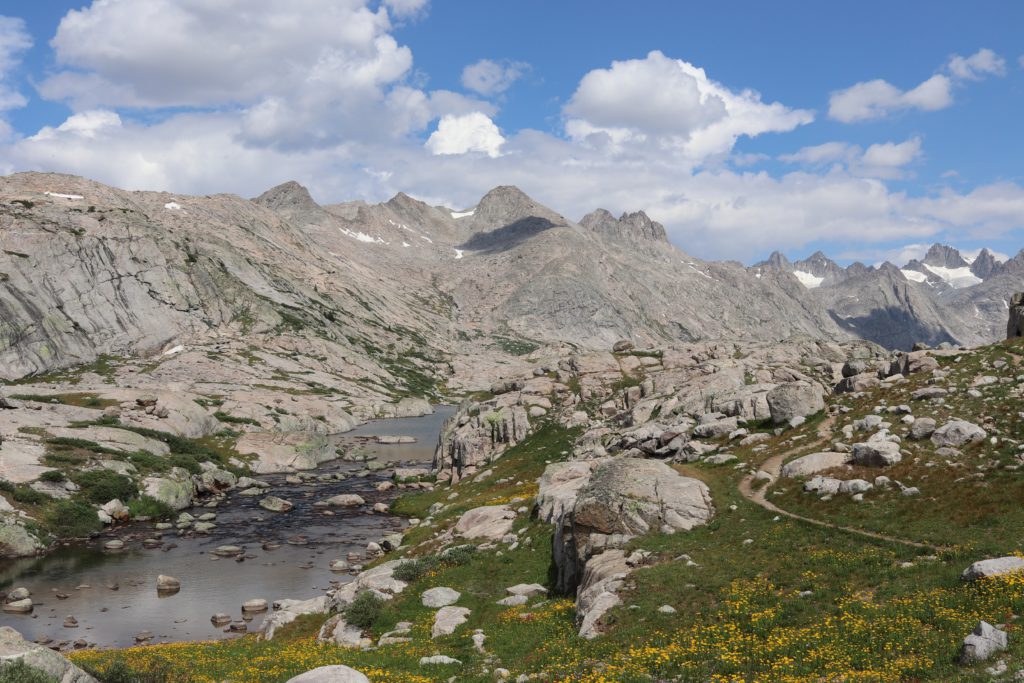 We came to the Ticomb Basin. This area dead ends in a wide valley carved by a glacier that sits in between these really rugged mountain peaks. There are two major lakes, which probably represent the runoff from the glaciers that are still visible along the mountain peaks. We came to the edge of the first lake and looked in. Crystal clear, gorgeous. Wow.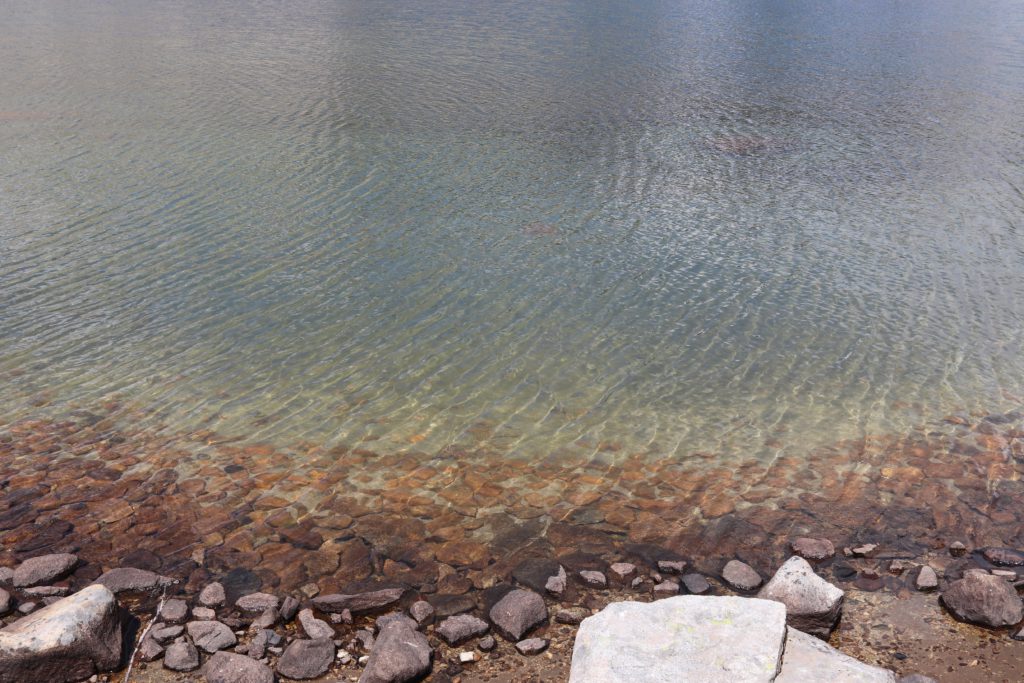 We made our way around the first lake and headed up toward the heart of Ticomb. We could just make out the rugged peaks as we started to crest the rock strewn path that stood in between the two lakes.
We almost thought that there was a giant archway up there in the peaks, then we realized that it was just the glacier matching the clouds in the background!
Coming over the top we would discover small ponds, surrounded by rocks, reflecting the surrounding mountains.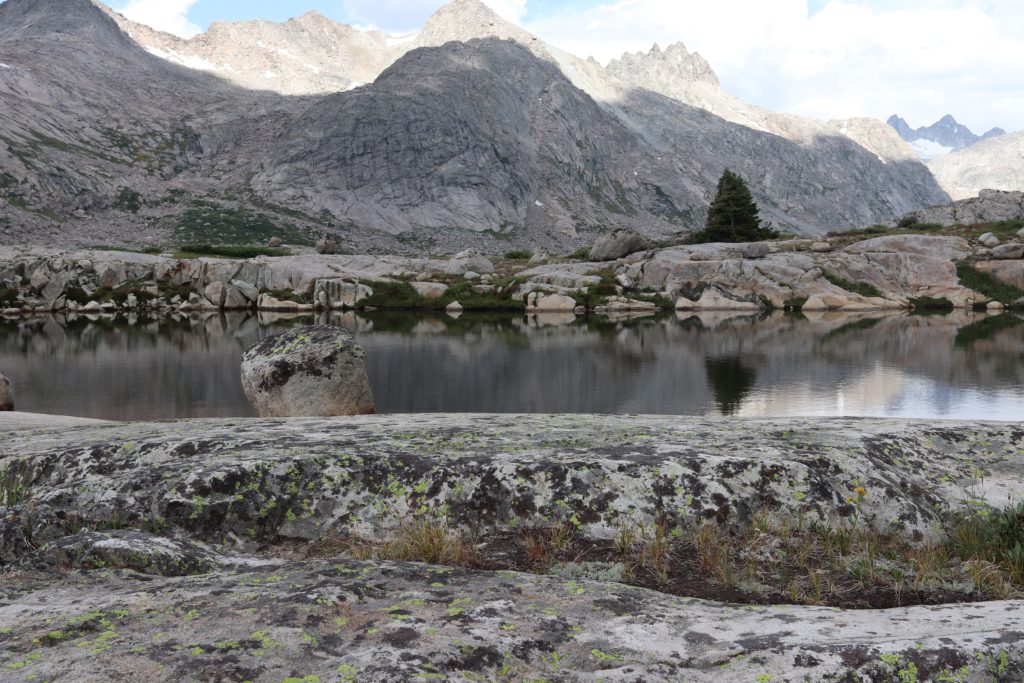 We reached the second lake. The view was incredible. You can see here the full extend of the Ticomb Basin.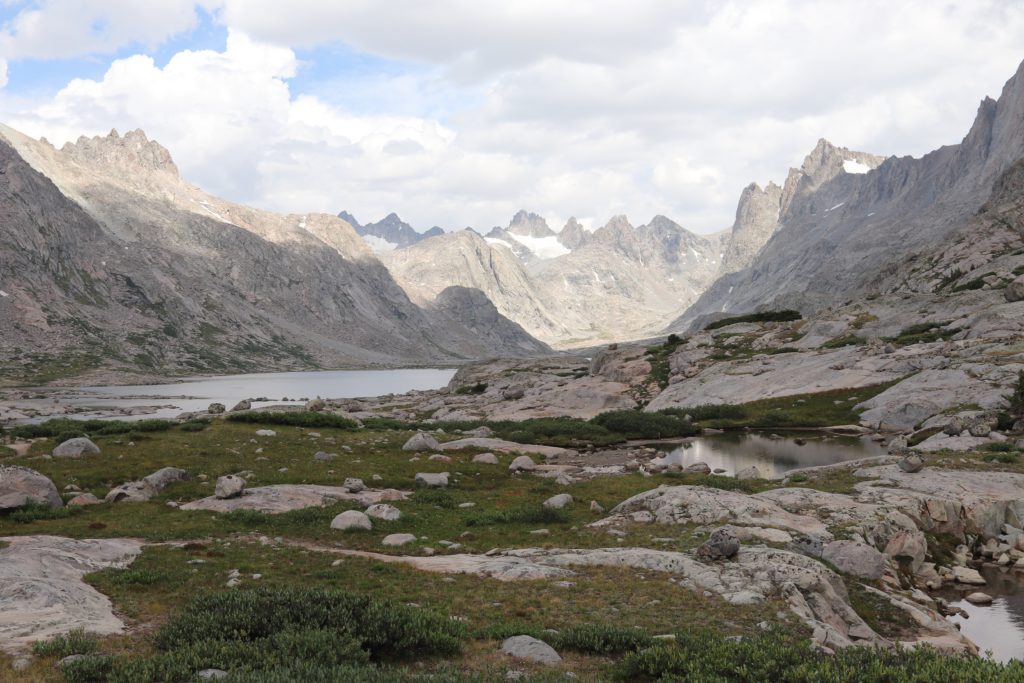 We found a fun spot in the middle of the area, took our shoes off, had lunch and pretty soon we were swimming in the lake. Warm sun, beautiful skies, amazing views. Water was cold, but felt good on our sore legs. Now you may notice something that I did not at the time. The clouds are starting to gather and they look a little dark perhaps?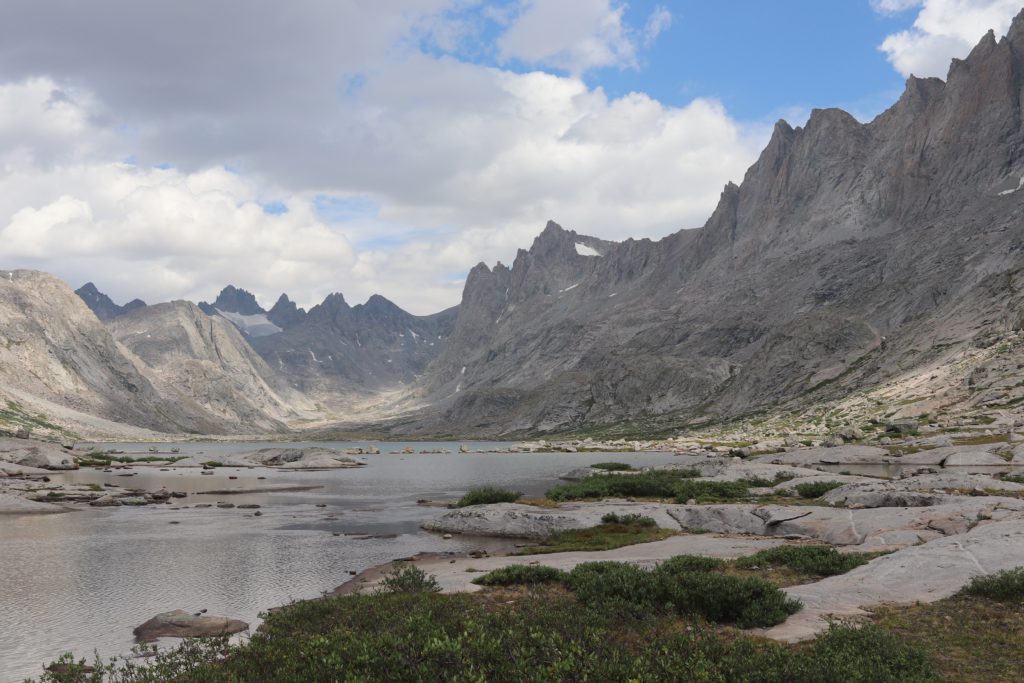 We were relaxing by the "pool" and I even started to take a little nap when I started to notice the dark clouds coming in over the horizon. Knowing full well how the weather can become your enemy in locations like this, I decided it was best for us to head back down the trail. We started on our way out and when we got back to the Island lake area it started to sprinkle. Before we could get back to our tents, it became a full on down pour. I mean it felt like the entire Pacific Ocean was being dumped on our heads for a minute. We huddled under a tree, but eventually that was not working so we quickly dived into our tents. Shivering and cold, we tried to get warmed up.
I noticed that our lovely flat ground camp site was actually a perfect place for water to gather and in fact that is exactly what was happening. Water was pooling around our tents. I got to work fixing things up and when the weather broke for a few moments, I quickly relocated my tent which was now sitting in a small lake. We survived this ordeal, and finally got somewhat dry. Later that night, however, it kept raining and now we had thunder and lightning storms spreading across the sky. Quite the spectacle!
The next day the rain broke and we had a relaxing day. I had to cancel my plans to head up to one of the passes, because the forecast was bleak in terms of rainfall. Not a smart idea to be hiking around the tops of mountains in lightning storms! Anyway, we got treated to some spectacular sights, including a lovely sunset.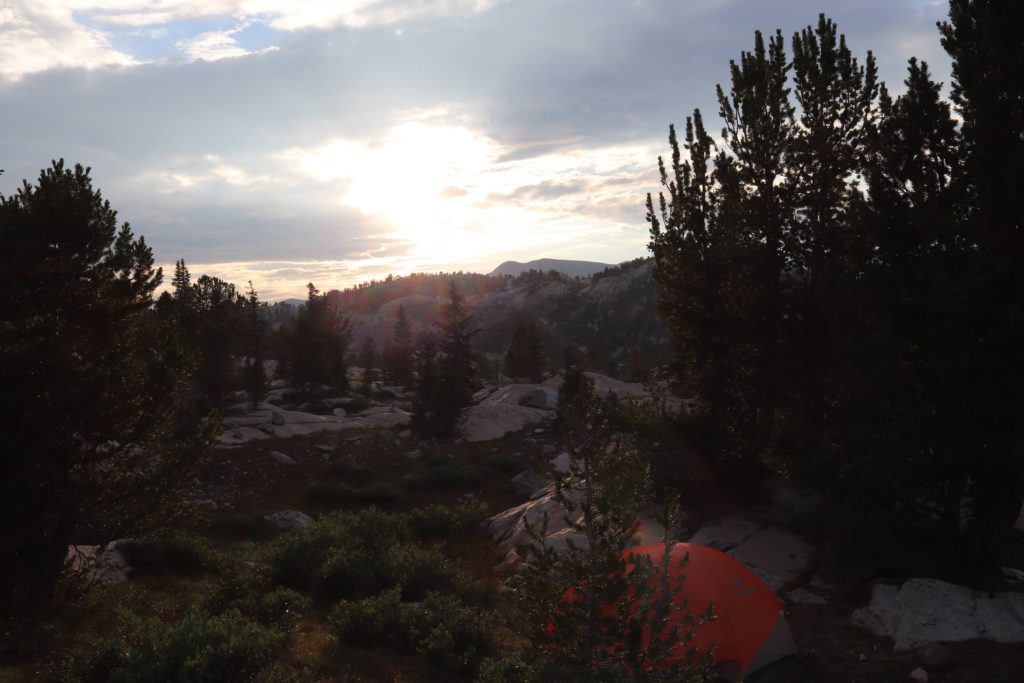 We tried our hand at trout fishing. There is some awesome native cutthroat trout in the lakes and streams. Red flaming sides and an amazing color on the fish. I taught the young men how to fly fish and we tested our skills a bit. We caught a few fish. I created filets with a pocket knife and our freeze dried meals that night were definitely improve with a mixture of fresh trout meat. One funny incident occurred. We brought a small backpacking rod and reel which we baited and set on a rock to see if we got a bite. We did, and the fish took the whole rod and reel down with him into the depths of the lake. At least we reduced our pack weight a bit for the journey back!
Eventually it was time to go. Friday morning we needed to hike out. I took one last look at the amazing view in front of me, now with the clouded peaks. Felt like I was literally looking into a fantasy story book. The picture does not do that full justice, but close.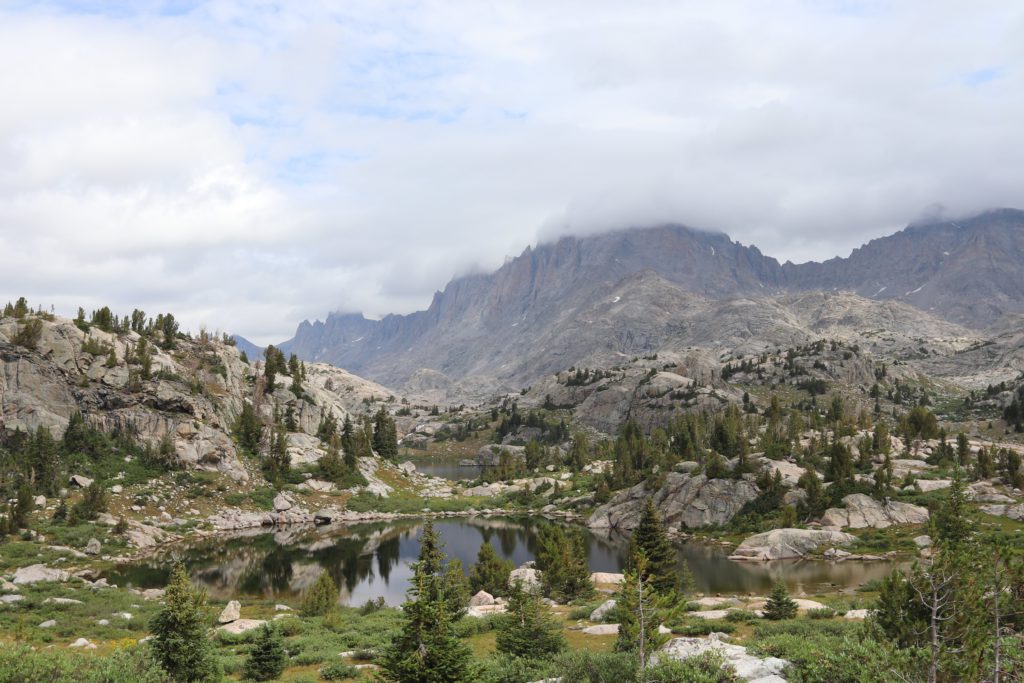 We got prepared to hike in the rain. Rain covers on, backpacks covered well, rain jackets and gloves. Here we are just as we are ready to head out. Note the storm clouds are starting to swirl again!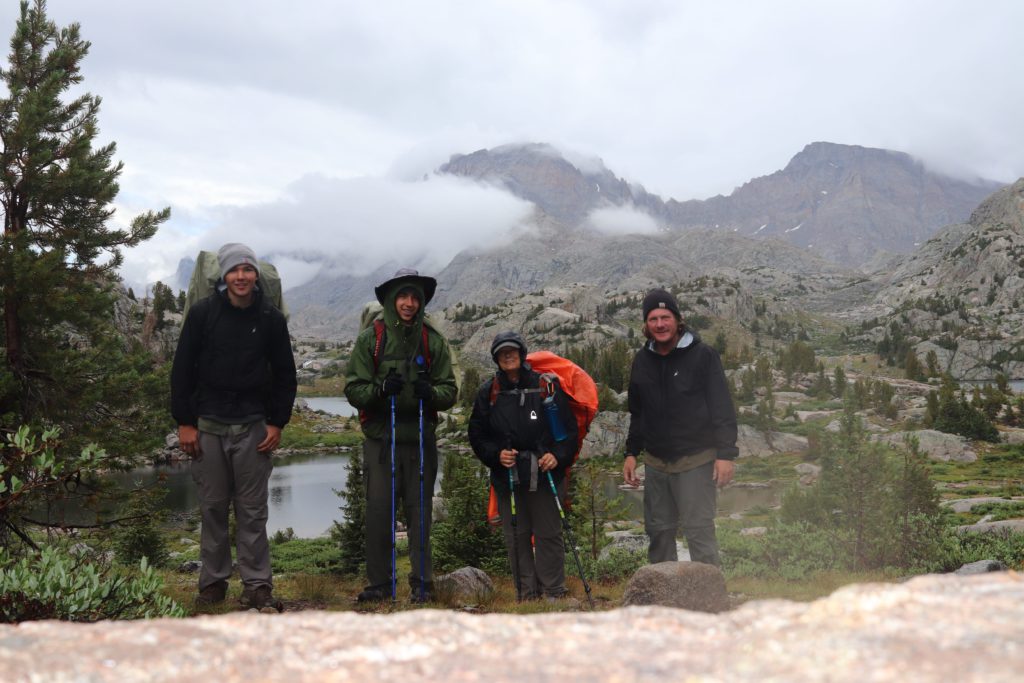 We headed back down the trail. Half way down it really started to rain. We sheltered down in a little valley and huddled by a tree on the trail. That was until Sleeping Beauty noticed a small wall of water and mud was heading down the trail directly toward us! We scrambled out of there fast. I found some high ground and we waited that flood out a bit. The last thing I wanted was to get slammed into by a massive flash flood! Anyway, we started to hike out of this valley and scrambled along the trail. Many stranded hikers were huddled under trees along the way, but we were determined to find a good place to camp.
We made it back to Hobbs lake, as I mentioned previously. I found a higher hill side for us to camp on. All was well, until I ran into a crazed chipmunk who would not stop yelling at me and trying to steal our food. All this worry about Grizzly bears and here I am getting jacked up by a little stripped rodent! Here you can see our little encampment. We set this up during the rain, and finally later that evening the rain stopped and I was able to snap this photo.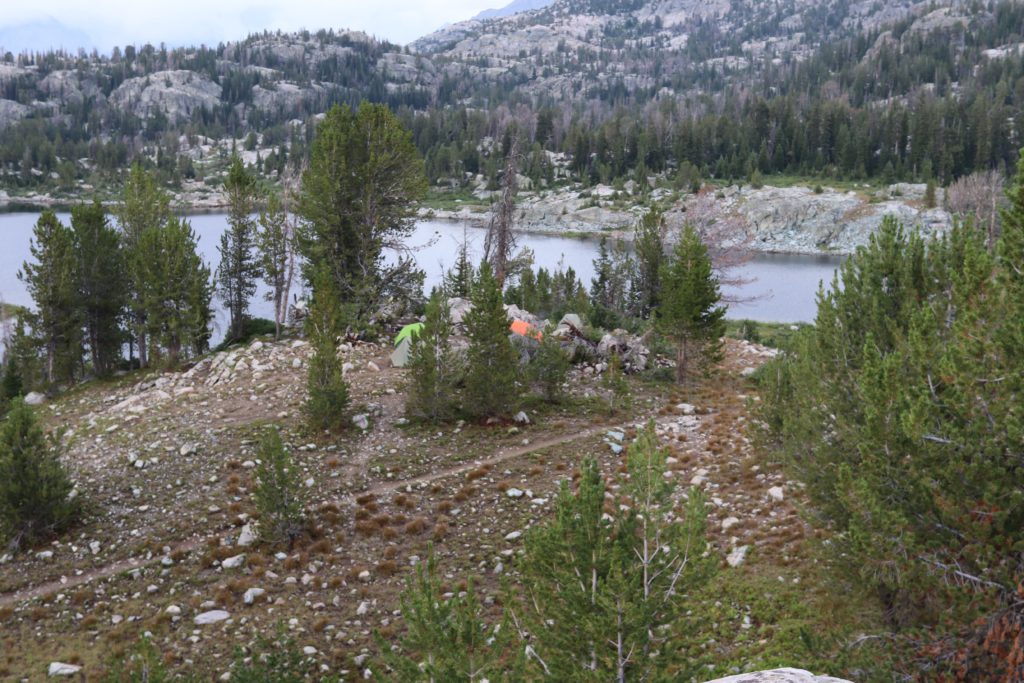 We woke the next day and hiked back down. Nothing much to report, except better weather and better views from the fresh rain. We were excited to get back to Photographer's point.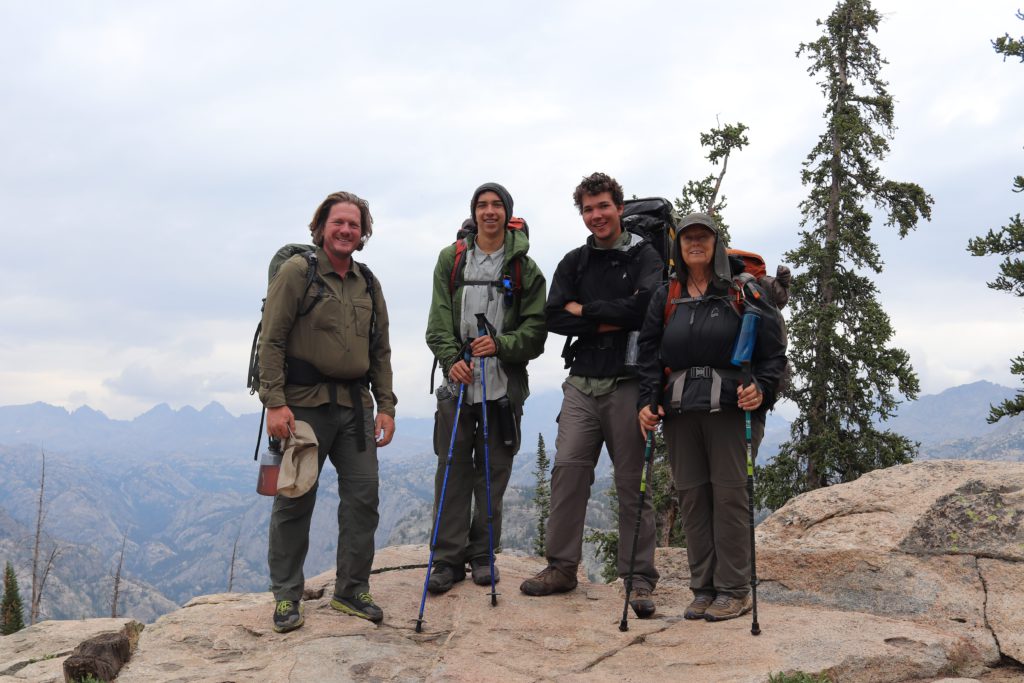 We were equally excited to finally see the parking lot and signs of civilization. We got to the car, changed our clothes and then as fast as possible headed to a nice fat hamburger at the brewery where we began our trip!
Here is the crew at the final moments, just before heading to the car.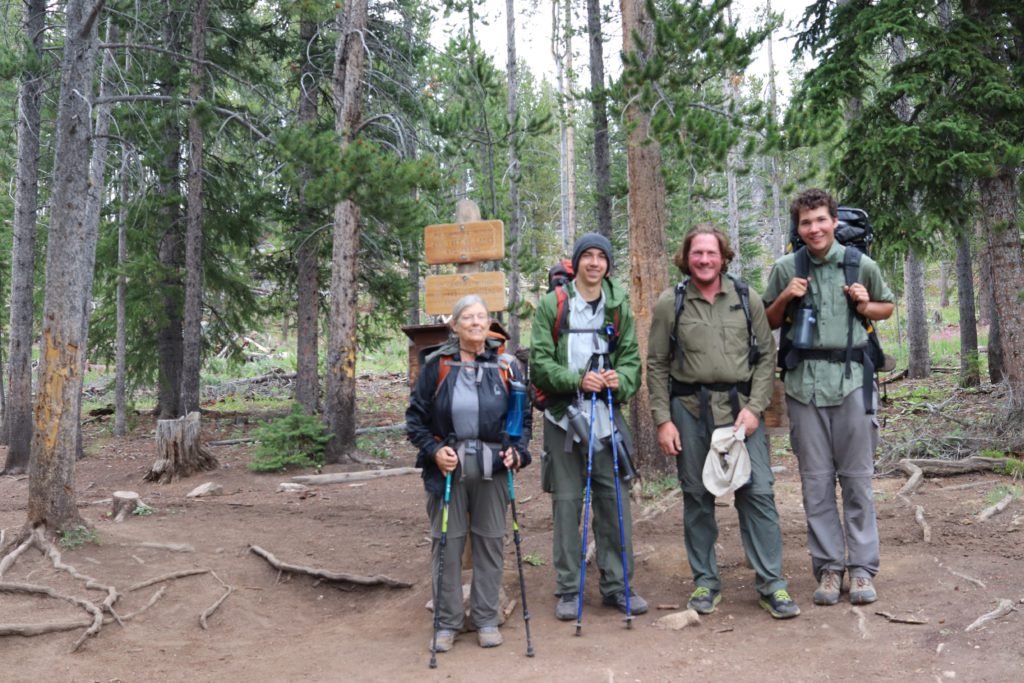 That was our adventure. Finally, after 30 years I got to hike into the Bridger Wilderness. I will never forget the amazing beauty for which we struggled to see! No access to anything on the way, I had to completely shutdown from everything, no access to the outside world, except for a sms text message to my family from a sat device. It was a great way to get away from it all and gain some much needed perspective.
Follow this link for a view of the full photo album of the trip.
Guy Reams